These results reflect the record holders, qualifiers, and final round contestants at each of the
SX Performance Street Car Shootout Series events held each Tuesday at Gateway
International Raceway in Madison, Illinois.

Tuesday SCSS Track Records can be set during official qualifying or championship rounds. The
official qualifying period begins at 6:30 PM and concludes at 9:00 PM, barring unforeseen
circumstances. At 9:30 PM, the two quickest qualifers meet in a no-handicap championship round for
trophies. Each of the Top 16 qualifiers receives a "Fastest Street Car Qualifier" decal. The SCSS
trophies and decals are presented by SX Performance Fuel Systems in St. Louis, MO (6
Sunnen Drive, 314-644-3000, http://www.sx-performance.com ). Additionally, the two
quickest Sport Tuner drivers, (open to all passenger cars except Rear-Wheel-Drive vehicles with
engines of six cylinders or more), also meet in a no-handicap championship round for trophies
presented by St. Louis Street Racing.com (http://www.stlsr.com) and the two quickest Super
Truck drivers, (open to all trucks and utility vehicles), meet in a no-handicap championship round for
trophies presented by http://www.GatewayRaceway.com .
GATEWAY INTERNATIONAL RACEWAY, MADISON, ILLINOIS
2006 SX PERFORMANCE STREET CAR SHOOTOUT TRACK RECORDS
Class Name Hometown ST Vehicle Engine ET MPH Date
RWD
Sam Moore
, East Alton, IL 93 Mustang 352 Ford
8.584
9/26/2006
RWD
Sam Moore
, East Alton, IL 93 Mustang 352 Ford
161.25
7/18/2006
4CYL
Jon Huber
, St. Louis, MO 79 Mustang 178 Ford
9.714
10/3/2006
4CYL
Jon Huber
, St. Louis, MO 79 Mustang 178 Ford
143.17
10/3/2006
TRK
Kevin Autenrietch
, Bethalto, IL 84 S-10 355 Chevy
9.772
9/28/2004
TRK
Steven Gleghorn
, Alton, IL 94 S-10 434 Chevy
140.44
9/26/2006
RTY
Eric Cheatham
, Belleville, IL 93 RX-7 79 Mazda
10.048
9/26/2006
RTY
Eric Cheatham
, Belleville, IL 93 RX-7 79 Mazda
137.95
9/26/2006
6CYL
Rob Nolan
, Granite City, IL 87 Regal 231 Buick
11.041
10/11/2005
6CYL
Rob Nolan
, Granite City, IL 87 Regal 231 Buick
124.56
4/11/2006
FWD
Adam Corbitt
, St. Charles, MO 85 Golf 122 Volks
11.473
9/5/2006
FWD
Adam Corbitt
, St. Charles, MO 85 Golf 122 Volks
126.95
5/30/2006
DSL
Phillip Blackburn
, Springfield, IL 03 2500 HD 403 Chevy
11.835
8/2/2005
DSL
Phillip Blackburn
, Springfield, IL 03 2500 HD 403 Chevy
114.29
8/2/2005
OCTOBER 3rd, 2006 SX PERFORMANCE STREET CAR SHOOTOUT QUALIFIERS
Pos Name Hometown ST Vehicle Engine ET MPH Date
EVENT 24 10/3/2006
1 Tony Huff Collinsville IL 68 Nova 468 Chevy 9.535 140.80
2 Gary Tripp Imperial MO 69 Camaro 496 Chevy 9.716 142.39
3 Jon Huber St. Louis MO 79 Mustang 178 Ford 9.763 143.17
4 Tim Mallicoat Collinsville IL 68 Camaro 468 Chevy 9.909 126.83
5 Mike McCombs Jacksonville IL 87 Mustang 418 Ford 10.412 130.72
6 Paul Schoelich Owensville MO 90 Mustang 408 Ford 10.442 131.42
7 Raymond Arthur Edwardsville IL 67 Camaro 427 Chevy 10.720 122.70
8 Orson Johnson House Springs MO 99 Mustang 281 Ford 10.757 128.89
9 Tony Buhl Lebanon IL 89 Mustang 331 Ford 10.807 125.45
10 Robert Tarr Aviston IL 91 Mustang 381 Ford 10.841 127.90
11 Joe Williams Maryville IL 85 Spirit 360 Dodge 11.005 127.87
12 Hal Marshall Collinsville IL 86 S-10 383 Chevy 11.034 123.00
13 Jack Nungester Arnold MO 71 Camaro 454 Chevy 11.112 127.91
14 Brad McCrary Mascoutah IL 90 Mustang 302 Ford 11.389 118.94
15 Chad Miller Springfield IL 06 Mustang 281 Ford 11.413 123.02
16 Larry Lee St. Louis MO 91 Mustang 302 Ford 11.418 122.38
OCTOBER 3rd, 2006 SX PERFORMANCE STREET CAR SHOOTOUT FINAL ROUND
Pos Name Hometown ST Vehicle R.T. ET MPH
W
Tony Huff
, Collinsville, IL 1968 468 Nova 0.328 9.587 140.24
RU Jon Huber, St. Louis, MO 1979 178 Mustang Did Not Stage
With a record high temperature for the date of 94 degrees and atmospheric conditions which kept the
best
air at 1800 feet above sea level, few fans of the SX Performance Street Car Shootout
Series expected anything close to a duplicate of last week's recordfest. Regardless, another massive
turnout of racers from the bi-state area used another exceptional racing surface to lay waste to the
performance standards of the series. Tony Huff added to the new marks by scoring his seventh
SCSS trophy at the helm of his silver '68 Chevrolet Nova, padding his title as the division's
winningest driver.
A tremendous field produced the second quickest Super Sixteen "bump spot" of 11.41 seconds and,
once again, the top four drivers were under ten seconds flat. Most remarkable may have been the
fact that every qualified machine with the sole exception of Brad McCrary's potent Illinois-based '90
Mustang clocked over 120 miles per hour, leading to the fastest average speed ever for an SCSS
program at 128.96 mph!
From the beginning of timed trials, the biggest story of the event was the appearance of one of the
most feared machines in the nation in its first attempt to qualify for an SCSS program. Jon Huber, the
second-generation pilot of the renowned Huber Performance 2.8 litre turbocharged four-cylinder
Ford Mustang, pulled into the pits with the team's sights set squarely on the SCSS Four-Cylinder
Records set only the week before by Joe Laramee's similar '77 Pinto, (10.53/130.19). Fresh from his
annual trip to the NMRA World Finals in Bowling Green, KY, only forty-eight hours prior, Huber
mounted a set of Department of Transportation-approved street tires on the silver '79 Mustang and
headed for the staging lanes. "It's been a long time since this car had street tires on it", said Huber,
"and even though Joe Laramee is a good friend of ours--we were actually pitted together at Bowling
Green--we really wanted to take a shot at this program...and those records".
Despite having been featured in print and electronic media around the globe, one of Huber's most
electrifying accomplishments had come only two weeks earlier when the St. Louisan finished in
eighth place overall, (behind seven V8-powered rides), at the conclusion of Hot Rod Magazine's
1600-mile "Drag Week" program in which the diminutive four-banger recorded an average of 9.52
seconds racing at five tracks in five states over five days. However, Huber's well-known wheelstands
and nine-second passes have always come with the aid of drag slicks; street tires would be yet
another challenge for the 178-cubic inch Ford. With the vast majority of the engine and drivetrain
using custom-built, one-of-kind parts manufactured by Jon's father at Huber Performance, the
Mustang was designed to be run at high output so, rather than detune the entire combination, the
senior Huber made the call to drive the car to the capabilities of the track.
Huber's first attempt came at the end of timed trials and he knew caution was the key to learning the
car's characteristics on D.O.T. rubber. With an apprehensive 3.25-second 60-feet Elapsed Time,
Huber gradually eased nt the throttle and coasted through the quarter with a 12.48/100.06. Realizing
the track could take far more power, a second run during qualifying resulted in a more reasonable
1.63-second 60-feet ET and a phenomenal 6.36/114.16 eighth-mile clocking, exceeding even the
6.39/109.13 numbers carded last week by Eric Cheatham's Mazda RX-7 en route to a new 10.04
Sport Tuner ET Record. Although the Mustang was definitely not under power at the finish line, the
crowd roared when the scoreboards showed a 10.08 at only 123.31 mph! However, all was not well
with the car which announcer Rich Tivitt described as "the baddest Sport Tuner machine on the
planet". As Huber explained after the run, "Something's not right. It was running great to the
eighth-mile but then it just started nosing over. We're going to have to find the problem, whatever it
is".
Meanwhile, things were somewhat confusing for the rest of the quickest cars in the Super Sixteen
field. Tony Huff, who desperately needed to qualify for the field to keep pace with current 2006 SCSS
Championship point leader Tony Buhl's Mustang, was forced to shut off on the starting line during his
first qualifying attempt when billows of smoke rolled out from under the silver '68 Nova just as he was
staging. As he was pushed away, a trail of transmission fluid could plainly be seen under the car.
"We fired it up before we left the shop", said Huff, "and the transmission was fried. We swapped
transmissions and came straight to the track. I sure hope we can fix it. I
really
hope we can fix
it!".
Then, there was the plight of Gary Tripp, the four-time finalist whose red 496-inch '69 Camaro had
clocked a 9.96/139.33 to lead qualifying after its first pass and returned with a 9.71/142.39 to knock
the 9.90/126.83 of Tim Mallicoat's '68 468 Camaro out of the lead spot. At the conclusion of the 9.71
effort, Tripp's bigblock Chevy decided to cease all functions in the middle of the shutdown area,
requiring the Gateway International Raceway Safety Crew to tow the car clear of the track. "I think
the engine is trying to tell me something", said Tripp upon returning to the pits. "It locked up after that
run and now it fires but then it dies almost immediately. We've decided not to run in the final round.
We really need to take a closer look at the motor".
Only minutes after Tripp's decision, Huff pulled his repaired Nova into the water box with only a
half-hour remaining in qualifying. With Buhl's supercharged Mustang qualified comfortably with a
10.80/125.45, it was imperative that Huff get to the finish line in under eleven seconds if he expected
to earn a "Fastest Street Car Qualifier" decal and stay in the point race. With his trademark
wheelstand, Huff thundered to a 9.53 at 140.80 mph to grab the pole, qualify for the championship
final and keep the pressure on Buhl.
Amidst all the drama, Huber pulled to the line for his third effort. With a 1.72-second 60-feet ET and
a 6.35/117.74 eighth-mile, the fans held their breath in hopes the Mustang would stay under power
the whole way.
It
did
. With one of the loudest cheers of the season as a backdrop, the scoreboards shone
with the results...
9.763 seconds at an incredible 143.17 miles per hour from a four-cylinder engine
on street tires!
Moreover, with Tripp's withdrawal, Huber slid into the first alternate position and a
spot in the final round! Since the 9.76 was blatantly the pole qualifier in the Sport Tuner category,
Huber would become only the third driver to qualify for two final rounds at the same SCSS event!
Unfortunately, Huber's attempt at a double victory fell to pieces in the span of seventeen minutes.
Moments after the monumental upset in the Sport Tuner title bout, Huber was changing the
intercooler ice while trying to determine the cause of the car's recurring top-end power loss. When
the Mustang pulled into the water box to battle a Chevrolet with just short of three hundred more
cubic inches, a loud clatter from the four-cylinder during the burnout was followed by Huber waving
Tony Huff to the starting line for a solo run. A blown header gasket, (no small matter on a
turbocharged powerplant), signaled the end of the event for the Ford. Ironically, Huff's 9.58 victory
lap at 140.24 mph made certain that Huber's earlier 143.17 mph charge would mark the first time in
SCSS history that a Sport Tuner entry has recorded the fastest speed of the event!
Still, with two trophies earned, three generations of Jon Hubers, (delineated by the middle initials A,
J, and L), were present during the winner's circle ceremonies in front of the main grandstand.
Although the Mustang receives support from a variety of companies including the Indiana-based
Precision Turbo and Engine emporium, the car is still basically the handiwork of two do-it-yourself
hot rodders from St. Louis. "Even though my dad does build bigblock Chevys and Fords", explained
Huber, "our specialty is still turbo four-cylinders. Every piece we make is usually handcrafted by my
dad for custom applications and this car is full of that kind of work. The track was great; we were
actually running nearly the same eighth-mile numbers we run with slicks! We'll figure out this top end
problem and we'll be back again".
For Tony Huff, it was a satisfying end to a long day. As a new member of "Team Silva Bullet",
(complete with window graphics), the Collinsville, Illinois ace had plenty of help and needed every bit
of it. "It all worked out but it was tough", said a relieved Huff during trophy presentations. "We've got
the consistency but it's the little stuff that drive you nuts. We're getting there, though. We're not done
yet!".
NOTES FROM THE SCSS:
Only two events remain in the SCSS season, and although
Tony
Buhl
still leads the 2006 Season Championship point standings with his Vortech-blown '89 331
Mustang, he still must qualify at the final two events to keep
Tony Huff
from overtaking him.
The point championship is determined by the number of Qualifier stickers earned with the date on
which the driver's point total is earned, followed by each driver's best ET of the season, used as
tie-breakers...Despite the worst air since August 8th, forty-six of the top one hundred ten qualifiers
still recorded career-best elapsed times...Although he failed to qualify for the Super Sixteen,
Jim
Harris
was the quickest of no less than seven late-model Corvette drivers on hand with a best of
11.73 during qualifying at a best-ever 127.62 mph. Harris borrowed a set of rear tires for his '03 Z06
which were far better than the boulders he normally uses but a problem with fourth gear wasted three
of the best 60-feet ETs he's had...
Mike McCombs
pushed his bronze '87 Mustang into the
SCSS 130 MPH Club with a great 10.41/130.72; the 418-incher is the 31st member...
Bobby
Tarr
got his first 10-second pass, a 10.84/127.90, in his '91 351 Mustang...
Chad Miller's
FC
Customs Procharged modular-powered '06 Mustang hit an 11.41/123.02 to earn his first Qualifier
decal. He's also still the only SCSS competitor ever bring his ride in a semi-trailer!...
Pat McNeish's
'99 Trans Am (11.80/116.52), Nick Hartwig's '93 Mustang (11.86/120.14), Dale Buchanan's '64 Nova
(11.93/111.47), and Chris Weltig's '01 Camaro (11.97/121.01)
, all gained their first 11-second
timeslips during the event...
Joe Williams
debuted the fourth car of the rapidly expanding Team
Silva Bullet; the 360 Dodge-powered '85 AMC Spirit had transmission problems but still qualified with
an 11.00/127.87...The quickest six-cylinder entry was
Bill Page's
'87 Buick Grand National at
12.12/110.44 followed closely by
Scott Keller's
T-Type '87 Regal at 12.20/111.12...
Larry
Lee's
winged '91 302 Mustang held the bump; Larry was the sixteenth qualifier fifty-one weeks
ago when the bubble was a then-quickest-ever 11.52, as well...The event included a rare
appearance by Marissa, Illinois veteran
Butch Locke
, who drove his '74 440 Challenger "daily
driver" to a 12.60/107.79 to set the all-time record for SCSS entries--with
hand controls!
. Butch
was paralyzed in a off-road accident as a teenager and immediately rebuilt both his race cars and his
street cars to include a hand-operated throttle and brakes. He went on to campaign a variety of
nine-second Chrysler bracket cars similarly equipped and has been featured in many national racing
publications. More importantly, he has been a source of inspiration for St. Louis race fans and racers
for decades.
SX PERFORMANCE STREET CAR SHOOTOUT SERIES CHAMPIONSHIP POINT
STANDINGS (as of OCTOBER 4th, 2006)
Pos Points Name Hometown ST Vehicle Engine
1 (19) Tony Buhl Lebanon IL 89 Mustang 331 Ford
2 (18) Tony Huff Collinsville IL 68 Nova 468 Chevy
3 (15) Hal Marshall Collinsville IL 86 S-10 383 Chevy
4 (12) Jim Harris O'Fallon MO 03 Corvette 346 Chevy
5 (11) Raymond Arthur Edwardsville IL 67 Camaro 427 Chevy
6 (9) Joe Williams Maryville IL 68 Nova 468 Chevy
7 (7) Gary Tripp Imperial MO 69 Camaro 496 Chevy
8 (5) Adam Corbitt St. Charles MO 85 Golf 122 Volks
9 (4) Matt Crittendon St. Louis MO 89 Mustang 306 Ford
10 (4) Rusty Schneider Owensville MO 99 Mustang 281 Ford
11 (4) Sam Moore E. Alton IL 93 Mustang 352 Ford
12 (4) Joe Laramee Decatur IL 77 Pinto 147 Ford
13 (4) Orson Johnson House Springs MO 99 Mustang 281 Ford
OCTOBER 3rd, 2006 STLSR.COM SPORT TUNER SHOWDOWN FINAL ROUND
Pos Name Hometown ST Vehicle R.T. ET MPH
W
John Roberts
, Ballwin, MO 1988 79 RX-7 0.194 11.804 113.96
RU Jon Huber, St. Louis, MO 1979 178 Mustang -0.049 (foul) 9.714 120.02
While the complete chronicle of Jon Huber's decimation of the Four-Cylinder ET and Speed Records
during the event can be found in the SCSS report above, the
St. Louis
Street Racing.com
Sport Tuner Showdown Series still had quite a battle going for the right
to face the Huber Performance Mustang in the championship dash. Throughout qualifying, John
Roberts' solid black '88 RX-7 and Kyle Sturgeon's almost solid white Neon SRT-4 traded blows with
the rotary eventually securing the number two spot with a 12.30/111.92 effort to oust the potent
Montgomery Cty, Missouri Dodge's 12.40/116.80 best. The Subaru Impreza WRXs of Curtis Wyatt
(13.14/104.29), Mike Reifsteck (13.42/102.42) and Ryan Mowery (13.59/102.76), rounded out the top
five qualifiers.
However, every Sport Tuner entry other than Huber benefitted from the apocalyptic evening suffered
by five-time finalist and reigning event winner Adnan "Otto" Omerovic, whose black All-Wheel-Drive
turbo Eagle Talon opened timed trials with a career-best 11.73 at a ****ping 125.95 miles per hour.
Only eleven minutes into qualifying, the driver who only last week produced the first 130 mph
four-cylinder pass was coasting to a stop at the 300-feet mark trailing a river of rearend lube, axle
grease, needle bearings and assorted undentifiable "chunks". After launching harder than ever
before, Omerovic was left with a gaping hole in his differential when the drive unit began
disintegrating only ten feet off the starting line. Adnan's first words? "I'll be back next week!".
The obvious disparity between Huber's incredible Mustang and Roberts' home-built 61mm-turboed
two-rotor Wankel didn't stop the Ballwin, Missouri RX-7 pilot from staging up against the Ford,
regardless. In the most classic example to never give up, the crowd--and, most likely,
Roberts--gasped when Huber redlighted by a mere forty-nine thousandths of second and handed the
win to the Mazda. Incredibly, Huber's fouling effort was more than
THREE TENTHS QUICKER
to the eighth-mile than on his previous 9.76/143.17 blast; an absolutely astonishing
6.00/116.14
certainly indicated the potential of a 9.50 pass...or something even more insane.
Tragically, the Mustang again lost power before the finish line and coasted to another
record-breaking pass of
9.714 at only 120.02 mph!
In the other lane, Roberts was busy reeling off a best-ever 11.80 at 113.96 mph to win in the biggest
underdog role. Although his RX-7 includes stand-alone engine management and a host of handbuilt
tricks, Roberts admitted, "It's really just a stock '88 RX chassis with a bunch of mods I made". The
win was impressive enough to gain applause from current Rotary Record Holder Eric Cheatham.
Some folks say Cheatham even smiled.
OCTOBER 3rd, 2006 GATEWAYRACEWAY.COM SUPER TRUCK SHOWDOWN FINAL
ROUND
Pos Name Hometown ST Vehicle R.T. ET MPH
W
Sam Moore
, East Alton, IL 1992 406 S-10 0.206 10.248 130.97
RU Hal Marshall, Collinsville, IL 1986 383 S-10 0.159 10.681 128.13
One week ago, Hal Marshall admitted he was going to have to "step on this thing a little", referring to
his white S-10's propensity for high ten-second runs which were offering little resistance to the
ever-increasing onslaught of quicker trucks in the
GatewayRaceway.com
Super Truck Showdown.
Hal wasn't kidding. He
did
step it up and it
wasn't
enough. The King of Tuesday Night
earned his twenty-fifth trophy in his fifth runner-up but lost out in what is quickly becoming a serious
rivalry.
Sam Moore, the all-time SCSS ET and MPH Record Holder who took over the reins of Dale Huff's
new red smallblock '92 S-10 only a month ago and has since scored three wins in as many weeks in
two different divisions, barely even made the final round with an off-pace 12.76/122.92 from the
Team Silva Bullet Chevy. Marshall's S-10 took the top qualifying spot early with an 11.03/123.00 and
appeared to have the upper hand in light of the problems experienced by Moore. "We're really
having serious fuel delivery problems and it was all I could do just to get it to the finish line on the
12.76 pass", explained Moore before the final round. "We've got an idea of what to do on the last
pass and it's a gamble but we think it'll work".
Hal was having none of that. He took a late timed trial before the championship bout and, true to his
word, "stepped on it" to a career-best 10.588 at 128.31 mph. In the final round, Hal even added a
five-hundredths of a second holeshot but, true to
his
word, Moore's plan worked. A 10.24 at
130.97 mph, (becoming only the third truck in the series to run over 130), erased Hal's 10.68/128.13.
Said Bill Silva after the race, "We've got big plans for this truck and we're just now learning what it
likes. I can promise you next year will be real interesting!". Hal, meanwhile, reflected on a new
problem. "It's finally spinning the tires", said Hal with a grimace, "and it went to the right on almost
every run. I lost a bunch right off the line. It's just another problem I need to work on".
Photos of the October 3rd SX Performance Street Car Shootout Series event are now available for
viewing at
Bret Kepner Photos.com
.
Tony Huff, Collinsville, IL 1968 468 Nova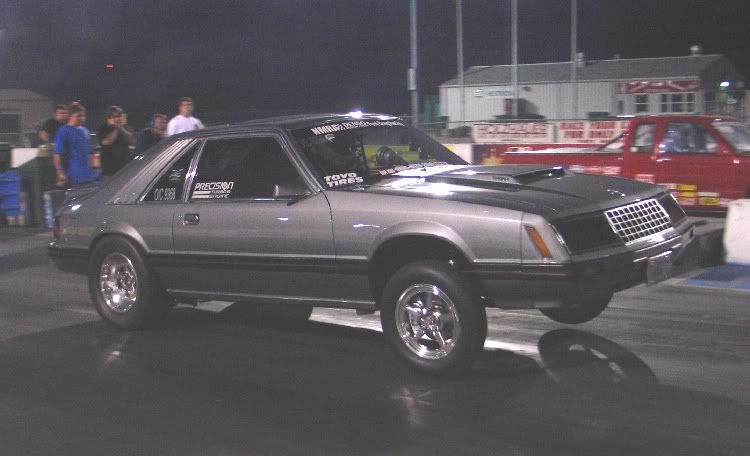 Jon Huber, St. Louis, MO 1979 178 Mustang
John Roberts, Ballwin, MO 1988 79 RX-7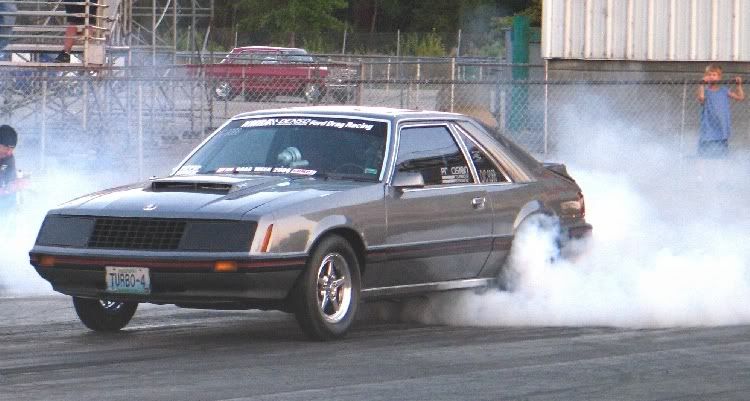 Jon Huber, St. Louis, MO 1979 178 Mustang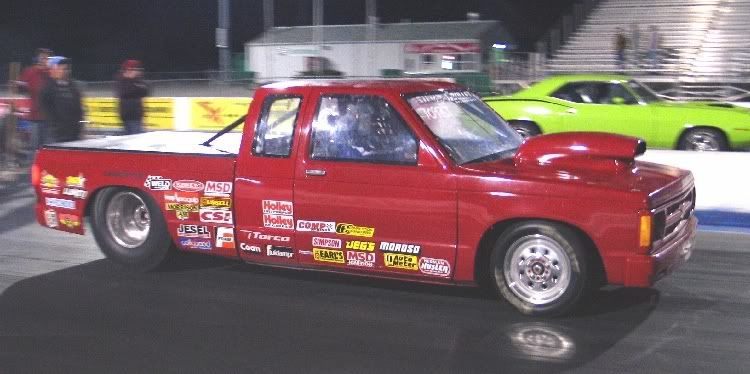 Sam Moore, East Alton, IL 1992 406 S-10
Hal Marshall, Collinsville, IL 1986 383 S-10