Texas, Where are you from
I guess I just don't understand. I let her spend freely and she does. I did complain about her continuing to run up the credit card as I don't like to pay interest. I don't really care I guess and I don't do anything on credit cards and especially car parts and such. We have gone through lay offs and foreclosure and job loss so we both know the consequences. We are coming up on three decades of marriage so we know each other pretty well.
That said she hasn't been this mad in a pretty long time.
Here it is one the pallets. Fortunately the seller had a pallet jack and a two post lift we could use. And we did use both.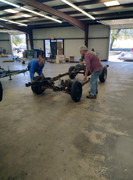 Got the chassis off the trailer and ready to slide under the body.