sharing knowledge with those who care to listen
finding more and more threads where street car or street car / strip use should be qualifier as well as stating what fuel is used...
street car with...
pump gas
pump gas + alky
OR
street / strip
where pump gas is swapped for leaded race fuel at the track.
lead in race fuel is what kills the sensor.
denso lamda sensor is preferred by those who use leaded race gas as the sensor will last almost three months of test 'n tunes, time trials, and going rounds if racing every weekend.
bosch lamda sensor will fail quicker than the denso when exposed to leaded race fuel.
on a street car that does not see leaded fuel use, a bosch sensor is preferred.
OK, now which bosch sensor? year, make, model lookup yields bosch 12014, which was mentioned above. I never liked that sensor. that extended tit as a wire strain relief is an interference hit with the lower radiator hose. what you want is bosch 12013. the physical sensor is the same as the OEM AC Rochester unit. yes, bosch 12013 is discontinued. however, there are hundreds of them available from ebay seller sparkautoparts. this seller has sold over 369K items, with over 116K positive feedback score. I bought a lifetime supply of the 12013 unit from him. the NOS AC Rochester units I have will stay in package on the shelf. link to bosch 12013 on ebay below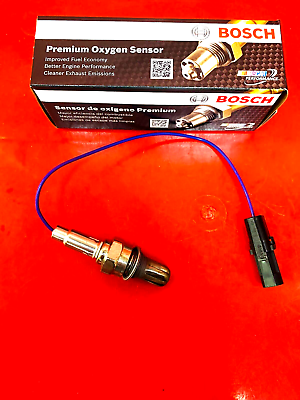 The picture shows the exact sensor that you will receive.
Using a scan tool, the O2 cross counts should cycle from 0-255 in 90 seconds or less once the engine has achieved operating temp of 176F (80C), switching to CLOSED LOOP & controlling fuel via O2 sensor. It is reported the Bosch sensor will cycle through in about 20 seconds while the Denso will cycle through in 90-120 seconds.
Since I don't use leaded fuel, I'll take a bosch sensor any day over the denso for faster fuel trim.
for those who'd rather have or need a denso, as stated above, NAPA local stores are the source today while you can find 'em. while the distribution warehouses have been emptied, there are still plenty of denso 234-1001 at the brick and mortar napa locations I searched. via the napa website, set you local store, then select check nearby stores. for me, within a 20-30 mile radius, there are several dozen stores and most show at least one on the shelf. have to go to each store as stores won't ship.
outside of the denso for leaded fuel use is:
NTK 21002. at least this NTK unit has not been discontinued.
best price for NTK is rockauto at $15.xx. these NTK's are disappearing as folks and vendors and builders are reading these threads and f*book discussions and buying dozens for their lifetime supplies. that started more than a year ago when the denso was discontinued.