These results reflect the record holders, qualifiers, and final round contestants at each of the
Street Car Shootout Series events held each Tuesday at Gateway International Raceway in Madison, Illinois.

All vehicles compete utilizing Department of Transportation (D.O.T.) approved tires. All other modifications are permitted. Tuesday SCSS Track Records can be set during official qualifying or championship rounds. The Official Street Car Shootout qualifying period begins at 6:30 PM and concludes at 9:00 PM, (barring unforeseen circumstances). At 9:20 PM, the four quickest qualifiers meet in no-handicap eliminations with the championship final round held at 9:45 PM. Each of the Top 16 qualifiers receives a "Fastest Street Car Qualifier" decal. The SCSS trophies and decals are presented by Gateway Raceway.com. Additionally, the two quickest Sport Tuner drivers, (open to all passenger cars except Rear-Wheel-Drive vehicles with engines of eight cylinders or more), also meet in a no-handicap championship round for trophies presented by St. Louis Street Racers.com and the two quickest Super Truck drivers, (open to all trucks and utility vehicles), meet in a no-handicap championship round for trophies presented by Gateway Raceway.com. All finalists in all categories also receive free digital images from the event courtesy of Bret Kepner Photos.com and one free entry to a future SCSS event.
GATEWAY INTERNATIONAL RACEWAY, MADISON, ILLINOIS
2008 STREET CAR SHOOTOUT SERIES TRACK RECORDS
Class Name Hometown ST Vehicle Engine ET MPH Date
RWD
Mark Woodruff
, Arnold, MO 69 Nova 706 Chevy
8.255
07/01/2008
RWD
Mark Woodruff
, Arnold, MO 69 Nova 706 Chevy
178.71
07/01/2008
TRK
Kevin Autenrieth
, Bethalto, IL 91 S-10 434 Chevy
9.065
07/01/2008
TRK
Larry Richards
, Hillsboro, MO 52 3100 427 Chevy
149.07
9/4/2007
4CYL
Jon Huber
, St. Louis, MO 79 Mustang 178 Ford
9.147
4/15/2008
4CYL
Jon Huber
, St. Louis, MO 79 Mustang 178 Ford
152.16
10/16/2007
DSL
Chris Calkins
, Union, MO 70 C-10 403 Chevy
9.875
9/25/2007
DSL
Chris Calkins
, Union, MO 70 C-10 403 Chevy
139.41
9/25/2007
RTY
Eric Cheatham
, Belleville, IL 93 RX-7 79 Mazda
10.048
9/26/2006
RTY
Eric Cheatham
, Belleville, IL 93 RX-7 79 Mazda
137.95
9/26/2006
AWD
Adnan Omerovic
, St. Louis, MO 95 Talon 122 Eagle
10.234
9/11/2007
AWD
Adnan Omerovic
, St. Louis, MO 95 Talon 122 Eagle
141.50
7/22/2008
6CYL
David Day
, Bunker Hill, IL 87 Regal 249 Buick
10.690
8/26/2008
6CYL
Troy Doolady
, Columbia, MO 87 Regal 231 Buick
131.10
8/19/2008
FWD
Adam Corbitt
, St. Charles, MO 85 Golf 123 Volks
10.989
05/06/2008
FWD
Adam Corbitt
, St. Charles, MO 85 Golf 123 Volks
134.87
05/06/2008
SEPTEMBER 9th, 2008 STREET CAR SHOOTOUT SERIES QUALIFIERS
Pos Name Hometown ST Vehicle Engine ET MPH Date
EVENT 19 09/09/2008
1 Tim Mallicoat Collinsville IL 68 Camaro 565 Chevy 8.602 158.20
2 Jon Huber St. Louis MO 79 Mustang 178 Ford 9.172 150.26
3 Bob Herzing Maryville IL 71 Camaro 477 Chevy 10.186 131.11
4 Hal Marshall Collinsville IL 86 S-10 383 Chevy 10.256 129.28
5 Raymond Arthur Edwardsville IL 67 Camaro 496 Chevy 10.574 128.90
6 Steve Decker Ballwin MO 89 Mustang 302 Ford 10.574 128.81
7 Joe Williams Maryville IL 68 Nova 468 Chevy 10.667 127.82
8 Nathan Grant Edwardsville IL 02 Camaro 346 Chevy 11.016 125.42
9 Joshua Wisdom Florence AL 06 Corvette 346 Chevy 11.054 128.32
10 Chad Barton Hillsboro MO 01 Corvette 346 Chevy 11.057 129.87
11 Adam Corbitt St. Charles MO 85 Golf 123 Volks 11.087 134.40
12 Greg Boschert St. Louis MO 66 Mustang 331 Ford 11.115 123.64
13 Mike Mester Valley Park MO 00 Firebird 402 Pont 11.177 120.77
14 Joe Stabinsky Freeburg IL 03 Mustang 281 Ford 11.358 121.75
15 Nick Burch Farmington MO 06 Mustang 281 Ford 11.375 127.10
16 Rob Schneider Imperial MO 00 Firebird 346 Pont 11.702 122.85
SEPTEMBER 9th, 2008 STREET CAR SHOOTOUT SERIES FINAL ROUND
Pos Name Hometown ST Vehicle R.T. ET MPH
W
Tim Mallicoat
, Collinsville, IL 1968 565 Camaro 0.260 8.532 158.78
RU Bob Herzing, Maryville, IL 1971 477 Camaro 0.018 10.114 131.41
The Street Car Shootout Series at Gateway International Raceway in Madison, Illinois, reached a major milestone with the completion of its one hundredth event since the first Super Sixteen program was conducted on April 6, 2004. However, the birthday party for the nation's only weekly sixteen-car qualified field of machines on D.O.T. rubber turned into an honorarium for the best drivers in the history of the series. In a twist of irony, the winningest competitors in each of the three SCSS divisions scored victories to add an exclamation point to the incredible success of the program.
Tim "Moose" Mallicoat blasted through the field to earn his twenty-third event championship at the wheel of his black
"Hellraiser"
1968 Chevrolet Camaro while taking advantage of simply incredible atmospheric conditions to produce his quickest and fastest run ever. Although the corrected elevation was an exceptional 1153 feet above sea level when timed trials began, an approaching high pressure system dropped the "air" to an
insane forty-nine feet
when the final rounds where contested. Temperatures ranging from 69 to 55 degrees under totally clear skies afforded not only perfect weather for spectating but ridiculously quick racing conditions which allowed no less than
sixty-three percent
of the large field to record career-best elapsed times or speeds. In fact,
seventy-one of the top one hundred qualifiers
ran their best passes ever!
Mallicoat was clearly the class of the field if only due to the absence of his closest rival in the 2008 SCSS point championship, Tony Huff. The most recent winner in the series on August 26, Huff's 600-cubic inch Chevy-powered 1957 Bel-Air suffered major engine damage in the championship round after Mallicoat redlighted away his chances. While Huff and crewchief Bill Silva were on the property, their '57 Chevy was still disassembled in the Collinsville, Illinois, shop of Dale Huff Motorsports. Mallicoat made his initial qualifying attempt within the first half-hour of the official qualifying period and rocketed to his quickest run of the season in 8.602 seconds at 158.20 miles per hour. When it became apparent that no other entry was a threat to his twenty-second career low qualifying position, Mallicoat stayed in the pits while the rest of the field battled for the remaining spots.
The closest qualifier to Mallicoat was the turbocharged four-cylinder '79 Mustang of crowd favorite Jon Huber, who opened with a stumbling 9.87/149.96 but returned to clock 9.172/149.66 and 9.176/150.26 efforts both of which were within only three hundredths of a second of his five month-old SCSS Four-Cylinder Track record of 9.147 seconds. The very fact that Huber was not competing in
Hot Rod Magazine's
Drag Week
program, a brutal contest for street cars which Huber won the past two seasons, was a shock. "We've been having torque converter problems", said Huber, "and we just haven't been satisfied with the car's performance recently. The fans know that we haven't even competed in eliminations here in the Street Car Shootout over the past few weeks because we've been trying to get the car right. It's been a lot of work but we really are committed to getting this car solidly in the eight-second zone". After his third qualifying effort, the St. Louisan again discovered a problem which forced the Huber Performance 178-cubic inch engineering marvel to withdraw from eliminations.
Another surprise came in the return of the original "King of Tuesday Night", the inimitable Hal Marshall. The champion of twenty-five titles in the Super Truck Showdown, Marshall had not raced since June but debuted his rebuilt smallblock Chevy-powered '86 S-10 pickup with a 10.25/129.98 to qualify fourth and elected to compete in both the Super Truck category and in the Street Car Shootout. Third in the field was Bob Herzing's wheelstanding 477-cubic inch Dale Huff Motorsports '71 Camaro which hadn't qualified in SCSS competition since the June 17 event. When Huber bowed out, Ray Arthur got a chance in eliminations as first alternate despite the fact his 9.0-second "Superstition" '67 Camaro was fighting a major transmission problem. "It's got no second gear", laughed Arthur at the end of the qualifying period, "or, at least, it hasn't had second gear so far tonight!". Incredibly, Arthur only made the field on the basis of his 128.90 mph qualifying speed; both Arthur and August 19 SCSS runner-up Steve Decker's '89 306 Mustang had recorded 10.574-second ETs but Arthur earned the fifth position by
nine hundredths of a mile per hour!
In the semi-finals, Mallicoat gained a noticeable advantage off the starting line against Marshall's 10.21/130.09 and streaked to an 8.62/157.76 to advance to the final round. In the other half of the final four, Herzing strapped a huge holeshot on the obviously distracted Arthur and, after both cars launched with the front wheels high, managed to hold off Arthur's 10.09/136.58 with a slower 10.10/131.45, scoring only the fifth holeshot victory in SCSS history!
In the championship bout of the one hundredth SCSS event, Herzing again launched with the front end heading skyward, grabbing a brilliant 0.018-second Reaction Time and a quarter-second advantage over Mallicoat. However, the black
"Hellraiser"
covered the first sixty feet in 1.254 seconds and made up the deficit by the 330-feet mark. Mallicoat was on the pass of his life; a career-best 5.45/127.70 eighth-mile clocking was followed by a best-ever 7.11-second elapsed time at one thousand feet. Blasting to the finish line, Mallicoat's 565-inch monster rang up its quickest and fastest pass ever while resetting the marks for the best naturally-aspirated run in SCSS history at
8.53 seconds and 158.78 miles per hour!
Moreover, the win light in Mallicoat's lane also signified another achievement for the 2007 SCSS season champion; in the final round, he became the first competitor to win
fifty rounds of competition
in the Street Car Shootout Series!
After receiving plenty of congratulations during winner's circle ceremonies in front of the main grandstand, Mallicoat admitted his surprise at the numbers on his timeslip. "We did freshen up the bearings and a few other things when we had last week off for the NASCAR truck race here at Gateway", he noted, "but, other than a new oil pump, we hadn't changed anything. It picked up a hundredth in the first sixty feet but it stepped up four hundredths between the sixty-feet and three hundred thirty-feet points. It just kept pulling all the way and the oil pressure was seventy pounds at the finish line! I'm almost wondering if it's not ready to
really
come apart! You know what they say; they always run best just before they
blow!
". Even Herzing was impressed, adding, "That really was a great run and the fact that it was an all naturally-aspirated final round was pretty cool, too. I did what I had to do with that holeshot but it sure wasn't enough. I can't complain about this car, though. After I sold my orange '67 Nova last year, I bought this car on
eBay!
It came out of Minnesota and I really haven't done much to it other than a few chassis adjustments and some new tires. It's definitely a fun ride!".
NOTES FROM THE SCSS:
When the corrected elevation nosedived toward sea level after the end of the official qualifying period, there were some amazing improvements in late timed trials not reflected on the qualifying sheets. The most amazing of those runs came from
Chad Barton's
Redline Performance Motorsports
2001 Corvette. During qualifying, Barton lined up with
Joshua Wisdom's
2006 Z06 from Florence, Alabama, and gave the fans one of the best races of the night while taking a holeshot victory, 11.057/129.87 to 11.054/128.32. Barton then returned after the completion of qualifying to unleash, (unofficially), the
quickest and fastest Corvette run in SCSS history
,
an astounding 9.95 at 145.28 mph!
…
Joe Williams
, whose yellow 496-inch Dale Huff Motorsports '72 Nova has competed in the SCSS for four years, qualified with a 10.66/127.82 but, in late timed trials, unleashed a 9.98/136.93 career-best…
Troy Eckman's
302-powered '86 Mustang ran a best of 12.80/104.19 during qualifying but later pounded out an 11.58/117.64!…
Isaac St. Clair's
blue '72 Chevelle could do no better than 12.46/109.17 but ran 11.06/120.84 after qualifying ended…
Greg Boschert's
well-known '66 Mustang ran 11.11/123.64, its best of the season, on seven-inch tires!…
Mike Mester's
white 9.8-second Trans Am returned to SCSS action but never made a full pass with nitrous oxide injection while breaking in a new transmission…
Jason Moore's
only decent passes came after qualifying when his TPI 355-powered '88 Camaro hit a best-ever 11.84/117.11...
Jerry Boschert
, (one of three unrelated Boscherts in competition!), pushed his 440-powered '67 Valiant to its first eleven-second pass in late timed trials, an 11.94/118.46...For the first time ever,
the bump spot in a Super Sixteen field was determined by speed
. Both
Rob Schneider's
2000 Trans Am and
Ralph Meek's
'68 302 Mustang ran a best of 11.702 seconds in qualifying but Schneider earned the last spot in the field by virtue of a 122.85 mph terminal velocity versus Meek's best of 114.15...The event also included the second annual
Guns 'N Hoses
battle among Missouri and Illinois police officers and firefighters. The brainchild of past track manager
Jason Dukes
, the event drew a surprisingly large and diverse field of cars and trucks. One of GIR's best motorcycle bracket racers,
Dusty Katich
, jumped in his 13-second Trans Am and won it all for the
Collinsville (IL) Fire Department
and received the massive Hamm perpetual trophy, (presented personally by Madison, IL, mayor
John Hamm
). The event also collected sizeable donations for the bi-state area's
Backstoppers
relief fund.
STREET CAR SHOOTOUT SERIES CHAMPIONSHIP POINT STANDINGS (as of SEPTEMBER 10th, 2008)
Pos Points Name Hometown ST Vehicle Engine
1 (27) Tim Mallicoat Collinsville IL 68 Camaro 565 Chevy
2 (21) Tony Huff Collinsville IL 57 Bel-Air 510 Chevy
3 (12) Raymond Arthur Edwardsville IL 67 Camaro 496 Chevy
4 (11) Kevin Autenrieth Bethalto IL 91 S-10 434 Chevy
5 (10) Jon Huber St. Louis MO 79 Mustang 178 Ford
6 (9) Hal Marshall Collinsville IL 86 S-10 383 Chevy
7 (8) Brett Marshall Collinsville IL 86 S-10 406 Chevy
8 (8) John Brawley Granite City IL 93 S-10 355 Chevy
9 (8) Nathan Grant Edwardsville IL 02 Camaro 346 Chevy
10 (6) Curtis Paulfrey Brighton IL 68 Camaro 468 Chevy
NOTE: Points toward the 2008 Street Car Shootout Series Season Championship are awarded on the basis of one (1) point for qualifying in the Super Sixteen field with one (1) bonus point awarded for qualifying in the top four positions. Ties are broken by (1) the earliest date upon which the final point total is earned, (2) quickest elapsed time recorded during the current SCSS season and (3) fastest speed recorded during the current SCSS season.
SEPTEMBER 9th, 2008 STLSR.COM SPORT TUNER SHOWDOWN FINAL ROUND
Pos Name Hometown ST Vehicle R.T. ET MPH
W
Adam Corbitt
, St. Charles, MO 1985 123 Golf GTi 0.236 11.146 127.50
RU Ernie Williams, St. Charles, MO 1989 79 RX7 0.629 13.511 108.49
After leading qualifying for the
St. Louis Street Racing.com
Sport Tuner Showdown with a brutal best of 9.17/150.26, Jon Huber's turbocharged 178-cubic inch four-cylinder '79 Mustang was again relegated to the pits after problems surfaced following its final qualifying effort. However, the door was opened for the rest of the Sport Tuner field including the winningest driver in the history of the category, Adam Corbitt.
The driver of the Corbitt Brothers/
Polk Audio
turbocharged '85 Volkswagen Golf Gti hadn't even made a run down the track with three minutes remaining in the official qualifying period but, in the third-to-last pair of cars in the session, the SCSS Front-Wheel-Drive Record Holder and the only Tuner driver with ten event wins to his credit streaked to an 11.08/134.40 to inherit the top qualifying slot. The speed, less than a half mile-per-hour from the 134.87 mph record the team set in May, indicated the turbo'd two-liter was also capable of taking full advantage of the amazing atmospheric conditions.
"We were swapping transmissions getting ready for the event", said Adam's brother and team manager Dave Corbitt, "but we found out we needed a new transmission support so I had to go
get one!
When we arrived, we had an oiling problem in the pits so we just barely got in the staging lanes in time to even make a run". Despite the last-minute qualifying pass, Corbitt returned for a late timed trial just before eliminations began and, even "pedaling" with plenty of tirespin, clocked an exceptional 11.01/134.83! Finding an opponent for the division's only ten-second FWD racer proved tough, however. David Neibert, whose white supercharged 232-inch V6-powered '91 Thunderbird Super Coupe was runner-up to Corbitt's last visit to the winner's circle on July 1, ran an 11.80/116.98 but followed up with an engine-killing 11.75 career-best at only 107.16 mph. Sean Kuehnel's Illinois-based '86 Grand National Regal hit 11.80/113.98 but failed to report for eliminations. Eventually, fifth qualifier Ernie Williams and his white '89 Mazda RX7 were called to meet the Volkswagen for the trophy. Williams' turbocharged 13B two-rotor Wankel had run as quick as 12.54/115.40 but he elected to make a timed trial even later than Corbitt and improved to a best-ever 12.37/115.10.
In the final round, Corbiit gained the hoelshot and never looked back while slowing to an 11.14/127.50 against Williams' off-pace 13.51/108.49. "I accidentally bumped the boost controller during the burnout", admitted Williams, "and dropped the boost from fourteen pounds to ten. It stumbled and I just couldn't get it to recover". Meanwhile, Corbitt's hectic night ended with more carnage. "After everything we went through, that last run
fried the clutch!
", laughed Corbitt. "We've been racing in the
Import Wars
program in Wisconsin this year and we've definitely been hard on parts but we don't often have nights as crazy as this one". The victory pushed the
Dub Werks
,
M&H Tires
and
Turbo Center
-sponsored VW to eleven wins in fourteen final rounds, both records for the Sport Tuner division.
SEPTEMBER 9th, 2008 GATEWAYRACEWAY.COM SUPER TRUCK SHOWDOWN FINAL ROUND
Pos Name Hometown ST Vehicle R.T. ET MPH
W
Hal Marshall
, Collinsville, IL 1986 406 S-10 0.507 10.401 122.91
RU Jason Evans, Smithton, IL 1988 383 S-15 0.359 11.952 112.36
He'd been "missing in action" since the June 17 event but Hal Marshall certainly lost none of his dominance by earning an unprecedented twenty-sixth event victory in the
GatewayRaceway.com
Super Truck Showdown. The all-time leader in event wins, (not to mention his thirty-six final round appearances), jumped back into the seat of his revamped '86 S-10 pickup and qualified on the pole at 10.25/129.28 and even raced in the Street Car Shootout, as well, after qualifying fourth overall. Every run he made was greeted by his renowned "personal cheering section" comprised of the majority of the Marshall family in the grandstands. "It's good to be back", said a smiling "Animal Hal".
Marshall's final round opponent was July 29 Super Truck champion Jason Evans, whose immaculate blue naturally-aspirated '88 GMC S-15 ran a best of 11.95/112.94 to qualify second. Marshall was able to drive around Evans' holeshot and ease to a 10.40/122.91 while Evans ran within one thousandth of a second of his qualifying effort with another 11.95! If nothing else, Evans' father was still elated with his son's second final-round appearance. "He has a good time at the races, doesn't he?", asked a smiling Evans, referring to his dad. "He helped me put this truck together so he's a big part of the whole operation". Marshall held a family gathering of his own in the winner's circle during trophy presentations in front of the main grandstand after inviting his brothers, Terry and Eddie, to pose for photos. However, the big question remained unanswered. Where the heck had Hal been for the past three months?
"The wife and I are building a new house", said Hal, "and we had some work to do on the truck, too. It has new cylinder heads and some new chassis components. We just had a lot of things going on at once and, in the heat of the summer, we just decided to take a break. I'm back, though. It sure felt good to be in the truck again. Everybody's here and having a good time. It makes me wonder why we
weren't
out here all summer. I guess we just forgot how much fun we have out here. It's always a good time!".
Photos of the
September 9th Street Car Shootout Series
event are now available for viewing at
Bret Kepner Photos.com
.
Tim "Moose" Mallicoat, Collinsville, IL 1968 565 Camaro
Bob Herzing, Maryville, IL 1971 477 Camaro
Adam Corbitt, St. Charles, MO 1985 123 Golf GTi
Ernie Williams, St. Charles, MO 1989 79 RX7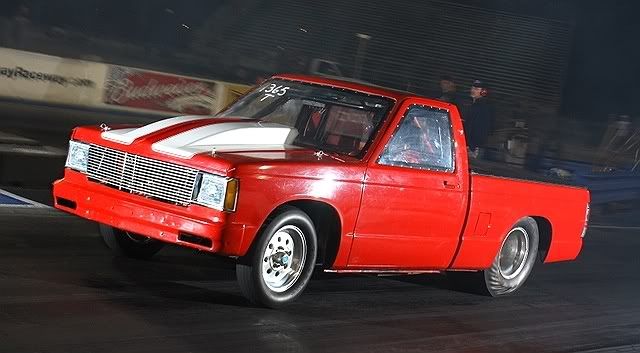 Hal Marshall, Collinsville, IL 1986 406 S-10
Jason Evans, Smithton, IL 1988 383 S-15