These results reflect the record holders, qualifiers, and final round contestants at each of the
Street Car Shootout Series events held each Tuesday at Gateway International Raceway in Madison, Illinois.

All vehicles compete utilizing Department of Transportation (D.O.T.) approved tires. All other modifications are permitted. Tuesday SCSS Track Records can be set during the two official qualifying or championship rounds. The first official Street Car Shootout qualifying period begins at 6:00 PM with sessions continuing until 9:45 PM, (barring unforeseen circumstances). At 10:00 PM, the four quickest qualifiers meet in no-handicap eliminations advancing two winners to the championship final round. Each of the Top 16 qualifiers receives a "Fastest Street Car Qualifier" decal. The SCSS trophies and decals are presented by Gateway Raceway.com. Additionally, the two quickest Sport Tuner drivers, (open to all passenger cars except Rear-Wheel-Drive vehicles with engines of eight cylinders or more), also meet in a no-handicap championship round for trophies presented by St. Louis Street Racers.com and the two quickest Super Truck drivers, (open to all trucks and utility vehicles), meet in a no-handicap championship round for trophies presented by Gateway Raceway.com. All finalists in all categories also receive free digital images from the event courtesy of Bret Kepner Photos.com and one free entry to a future SCSS event.
GATEWAY INTERNATIONAL RACEWAY, MADISON, ILLINOIS
2009 STREET CAR SHOOTOUT SERIES TRACK RECORDS
Class Name Hometown ST Vehicle Engine ET MPH Date
RWD
Mark Woodruff
, Arnold, MO 69 Nova 706 Chevy
8.255
07/01/2008
RWD
Mark Woodruff
, Arnold, MO 69 Nova 706 Chevy
178.71
07/01/2008
TRK
Kevin Autenrieth
, Bethalto, IL 91 S-10 434 Chevy
8.881
09/15/2009
TRK
Kevin Autenrieth
, Bethalto, IL 91 S-10 434 Chevy
150.73
09/15/2009
4CYL
Jon Huber
, St. Louis, MO 79 Mustang 178 Ford
9.039
10/14/2008
4CYL
Jon Huber
, St. Louis, MO 79 Mustang 178 Ford
152.16
10/16/2007
6CYL
Tony Shoaff
, Mechanicsburg, IL 87 Regal 231 Buick
9.848
10/14/2008
6CYL
Tony Shoaff
, Mechanicsburg, IL 87 Regal 231 Buick
136.69
10/14/2008
DSL
Chris Calkins
, Union, MO 70 C-10 403 Chevy
9.875
9/25/2007
DSL
Chris Calkins
, Union, MO 70 C-10 403 Chevy
139.41
9/25/2007
RTY
Eric Cheatham
, Belleville, IL 93 RX-7 79 Mazda
10.048
9/26/2006
RTY
Eric Cheatham
, Belleville, IL 93 RX-7 79 Mazda
137.95
9/26/2006
AWD
Adnan Omerovic
, St. Louis, MO 95 Talon 122 Eagle
10.234
9/11/2007
AWD
Adnan Omerovic
, St. Louis, MO 95 Talon 122 Eagle
141.50
7/22/2008
FWD
Adam Corbitt
, St. Charles, MO 85 Golf 123 Volks
10.989
05/06/2008
FWD
Adam Corbitt
, St. Charles, MO 85 Golf 123 Volks
134.87
05/06/2008
SEPTEMBER 15th, 2009 STREET CAR SHOOTOUT SERIES QUALIFIERS
Pos Name Hometown ST Vehicle Engine ET MPH Date
EVENT 18 09/15/2009
1 Tim Mallicoat Collinsville IL 68 Camaro 565 Chevy 8.690 156.92
2 Kevin Autenrieth Bethalto IL 91 S-10 434 Chevy 9.063 147.36
3 Raymond Arthur Edwardsville IL 67 Camaro 496 Chevy 9.323 146.72
4 John Cadenhead Festus MO 82 Malibu Wagon 515 Chevy 9.406 145.80
5 Mike Gannon Belleville IL 68 Nova 454 Chevy 9.768 126.77
6 Curtis Paulfrey Brighton IL 68 Camaro 502 Chevy 10.125 133.74
7 Tracy Evans Jackson MO 95 Camaro 357 Chevy 10.153 135.78
8 Don Moore Pontoon Beach IL 91 S-10 468 Chevy 10.282 126.39
9 John Brawley Granite City IL 93 S-10 355 Chevy 10.570 136.88
10 Ian Williams St. Clair MO 69 Camaro 489 Chevy 10.905 125.72
11 Greg Boschert St. Louis MO 66 Mustang 331 Ford 10.978 128.71
12 Mike Mester Valley Park MO 00 Firebird 402 Pont 11.043 121.22
13 Gary Carter Hartford IL 79 C-10 406 Chevy 11.274 119.62
14 Hank Hart Godfrey IL 72 Vega 468 Chevy 11.343 122.23
15 Darryl Howard Bunker Hill IL 80 Malibu 468 Chevy 11.509 115.14
16 Brad Francis Elsberry MO 79 Monte Carlo 350 Chevy 11.917 110.97
SEPTEMBER 15th, 2009 STREET CAR SHOOTOUT SERIES FINAL ROUND
Pos Name Hometown ST Vehicle R.T. ET MPH
W
Tim Mallicoat
, Collinsville, IL 68 565 Camaro 0.154 8.700 148.10
RU John Cadenhead, Festus, MO 82 515 Malibu Wagon -0.023 (foul) 8.904 152.19
Despite another serious threat from more new competition, Tim "Moose" Mallicoat continued what may be his greatest season yet in the
Street Car Shootout Series
at
Gateway International Raceway
in Madison, Illinois. The intrepid driver of the
M&M Automotive/Dale Huff Motorsports
"Hellraiser"
1968 Camaro not only secured his fourteenth event title of the season, (and his eleventh victory in a row), but also broke his own 2008 record by appearing in his
fifteenth consecutive final round
. During his 2008 SCSS championship year, Mallicoat battled in every final round from April 8th through September 15th. In 2009, the Collinsville, Illinois ace has appeared in
every final round held to date!
Likewise, Mallicoat is currently carrying an incredible career-best
96.55% round win-average
, (twenty-eight wins versus one loss incurred on May 5th against Orson "O.J." Johnson), and is on track to exceed the thirty-three round wins scored during his 2007 SCSS Championship year. The only record left to break, (other than an unprecedented third consecutive SCSS Championship), is his unparalleled streak of thirteen consecutive event victories earned between April 17th and August 21st, 2007.
Another large field appeared for the eighteenth SCSS event of the year and atmospheric conditions were still deemed exceptional as the coolest season in the history of the series, (with an average high temperature during SCSS competition of only 75 degrees), continues. The corrected elevation ranged from 1846 feet above sea level to 1176 feet during the final rounds leading to a tremendous number of career-best performances. Although breakage and one oildown slowed the program, (including an insane total of six broken rearends and driveshafts), the track surface temperature remained above 80 degrees for the duration.
When Mallicoat elected to skip the first qualifying session and make his solitary qualifying attempt in the second period, the attention of the fans was directed at two new SCSS entries. Mike Gannon, whose 454-cubic inch Chevy-powered bronze and primer '68 Nova was receiving the tuning expertise of Belleville, Illinois, veteran Larry Dixon, clocked a debut 9.76-second effort at only 126.77 miles per hour to take the early qualifying lead on a run which, despite top-end problems, included a 6.11/111.81 eighth-mile. John Cadenhead, whose outrageous street-driven 1982 Malibu station wagon has been a crowd favorite during the
Battle of the Boards
competition at GIR's
Monster Midnight Madness
events, posted a strong 9.40/145.80 on his first SCSS qualifying run while carrying the front wheels three feet high and past the Christmas Tree! By the end of the first qualifying session, however, it was longtime SCSS campaigner Ray Arthur leading the
Super Sixteen
field at 9.32/146.72.
Mallicoat's effort in the second session started with a relatively soft 1.30-second sixty-feet elapsed time but shot to the pole position with a stout 8.69 at 156.92 mph. Only SCSS Truck Elapsed Time Record Holder Kevin Autenrieth's orange '91 S-10 pickup was close to the "Moose", barely missing its new 9.00-second standard with a 9.06/147.36 blast. Cadenhead's Malibu wagon failed to improve with a 9.59/141.28 but retained the fourth spot and a chance to wage war in eliminations. Incredibly, Cadenhead elected to make a timed trial after the conclusion of qualifying to test a different nitrous oxide setting on the wagon's 515-inch powerplant. With another huge wheelstanding launch, the 3970-pound behemoth charged to a 5.62/125.92 eighth-mile and, as the spectators rose to their feet, it lit the top-end scoreboard with an astonishing
8.77 at 155.01 mph!
Tim Mallicoat, Jr., watching the run from the starting line as his father prepared for eliminations, said in a concerned voice, "It looks like we've got some
major
competition tonight!".
When the qualifiers were called to report in front of the main grandstands for eliminations, Autenrieth decided to compete only for the Super Truck Showdown title with his S-10. First alternate Gannon's new Nova had experienced problems on the starting line during its second run so it was no surprise when crewchief Dixon announced the car would not be competing. That allowed second alternate Curtis Paulfrey into the battle; the driver of the yellow 502-inch naturally-aspirated
Winner's Circle Tire and Auto
'68 Camaro was enjoying a rare Tuesday night off work which allowed him to stay at the track long enough to race! He drew the crowd favorite, Cadenhead's Malibu, in the opening round. Although Paulfrey gained a slight holeshot and actually held the lead past the sixty-feet mark, the wagon blasted past the Camaro's 10.10/134.02 with an ungodly 8.74 at 155.22 mph to win its first round of SCSS competition! Mallicoat made a date to battle the wagon in the final round when he ran an 8.66/155.35 after Ray Arthur fouled by thirty thousandths of a second before his 496-inch
"Suspicion"
'67 Camaro slowed to a 9.60/145.30.
Although Mallicoat had a slight elapsed time advantage over Cadenhead, (helped, in part, by a stellar 1.271-second "sixty" in the first round of eliminations), not a fan left the stands in anticipation of a possible upset. The massive bulk of the wagon was offset by an
NOS
-brand "fogger" nitrous oxide system to compensate against Mallicoat's decidedly lighter but naturally-aspirated powerplant of slightly larger displacement. In the title bout, however, Cadenhead launched the wheelstanding barge a mere twenty-three thousandths of a second too soon, fouling away his chances against the dominant driver in the series. The wagon also slowed to an 8.90/152.19 while Mallicoat actually shut down before the finish line at 8.70/148.10.
"I didn't even know he
redlighted!
", said a surprised Mallicoat during winner's circle ceremonies in front of the main grandstands. "I didn't get in front of him until just before the finish line. It was only twenty-seven thousandths, (5.96 feet), between us down there and the car got pretty dicey and I had to lift. I may have gotten into some oil-dry on the track from that oildown they had a little before the final. Either way, I saw him out in front for a
long
time!".
"This really is why we came out tonight", said a happy Cadenhead. "We've wanted run this for a long time and to get our first eight-second runs was great, too! That's the quickest we've run with the car in the quarter-mile. The guys at
Griffin Custom Racecraft
are responsible for making this thing a completely streetable eight-second car. It's still a stock framerail car with the shocks mounted in the stock location. It's got a full interior and we really do cruise the car on the street pretty regularly. We were running 275 series tires tonight; we usually run 295s but the folks at
Sutton Racing Engines
helped us get the tune-up on pump gas to run as hard as we did tonight. We let the nitrous bottle pressure drop to about 900 pounds in the final and that's what slowed us down. The redlight didn't help things, either! I'm glad the fans enjoyed watching us, though. We had a blast!".
NOTES FROM THE SCSS:
…It's not over yet but
"Moose" Mallicoat
is getting close to wrapping up the
2009 SCSS Championship
. Both
Curtis Paulfrey
and
Ray Arthur
have mathematical chances to pass Mallicoat but Moose would have to stay home for the rest of the year…
John Cadenhead
joined four new clubs in the process of earning his first SCSS final round appearance. The tan Malibu wagon's first run of 9.40/145.80 made John the 52nd member of the SCSS 9-Second Club and the 33rd member of the 140 MPH Club. His first-round 8.74/155.22 then made him the 16th member of the 8-Second Club and the 21st member of the 150 MPH Club! He's also the 66th different driver to appear in a SCSS final round since the first event on April 6th, 2004…
Mike Gannon's
9.76 qualifier got him in the 9-Second Club, as well…The
Lough Engine Service
-sponsored 357-inch '95 Camaro of
Tracy Evans
shot to a best-ever 10.15/135.78 to become the 130th entry into the 10-Second Club and the 77th member of the 130 MPH Club…The S-10 pickups of
Don Moore
, (126.39), and
John Brawley
, (136.88), got career-best speeds during qualifying…
Ian Williams
posted a best-ever 11.84/119.84 from his '69 454 Camaro during the September 1st event and destroyed that number with a 10.90/125.72 during qualifying to join the 10-Second Club and become the 230th driver in the SCSS 120 MPH Club…
Mike Mester's
familiar white LS1-powered 2000 Trans Am qualified with an off-pace 11.04/121.22 but nailed down a 10.31 at a big 137.06 mph in late timed trials…
Greg "Hook-N-Ladder" Boschert
qualified his nitrous-aided 333-inch '66 Mustang coupe with a 10.97/128.71 on eight-inch-wide D.O.T. rubber but improved to a 10.89/128.85 during late timed trials…
Hank Hart's
H2K Construction
-sponsored 468-inch '72 Vega ran a best-ever 11.34/122.23 to qualify for its first
Super Sixteen
field and joined the 120 MPH Club, too…
Gary Carter's
406-inch '79 C-10 heavyweight pickup surprised a lot of fans with an 11.27/119.62 to qualify for the first time…
Darryl Howard
, whose blue '80 468 Malibu is one of many
Winner's Circle Tire and Auto
flagbearers, ran a best-ever 11.50/115.14 to qualify for the second time this season…
Brad Francis
, whose 350-powered '79 Monte Carlo never fails to yank the left front tire en route to low twelve-second performances, posted a career-best 11.91/110.97 to earn his first
"Fastest Street Car Qualifier"
decal and make the
Super Sixteen
. Francis is a member of the huge
Certified Performance
team which seems to have entries in attendance at nearly every GIR drag racing event…The field almost included
two
station wagons; past GIR High School Eliminator season champion
Matt Gosch
ran an 11.94/111.03 best on his wheelstanding blue
Ted's Motorcycle World
/
Yates Performance Chassis
455 Buick-powered Regal wagon but missed the
Super Sixteen
by twenty-nine thousandths of a second…When qualifying had concluded,
Brandon Behrle's
2002 347 Camaro was ten positions out of the field with a 12.58 best but his speed, a whopping 122.57 mph, was enough to make it the 232nd member of the SCSS 120 MPH Club!…Professional bracket racer
Brad Gebhardt
of Jacksonville, Illinois, appeared in a burgundy 2008 Mercedes-Benz CLS 55, a
$97,025
hitter when new, to see if it would make a decent index racer for the upcoming
Outlaw All-Stars
heads-up season finale. The 507 hp, supercharged 336-inch beast had the power and Gebhardt noted the paddle shifters made driving a breeze. The result? Back-to-back 12.83/108 runs and a guaranteed entry in the 13.0 class!
2009 STREET CAR SHOOTOUT SERIES CHAMPIONSHIP POINT STANDINGS (Top 10 of 129 as of SEPTEMBER 16th, 2009)
Pos Points Name Hometown ST Vehicle Engine
1 (119) Tim Mallicoat Collinsville IL 68 Camaro 565 Chevy
2 (87) Curtis Paulfrey Brighton IL 68 Camaro 502 Chevy
3 (80) Raymond Arthur Edwardsville IL 67 Camaro 496 Chevy
4 (50) Greg Boschert St. Louis MO 66 Mustang 333 Ford
5 (40) Orson Johnson House Springs MO 99 Mustang 281 Ford
6 (35) John Brawley Granite City IL 93 S-10 355 Chevy
7 (33) Don Moore Pontoon Beach IL 91 S-10 468 Chevy
8 (20) Matt Mingus Florissant MO 62 Nova 355 Chevy
9 (20) Dan Harris St. Louis MO 04 Mustang 232 Ford
10 (20) Mike Mester Valley Park MO 00 Firebird 402 Pont
NOTE: Points toward the 2009 Street Car Shootout Series Season Championship are awarded on the basis of five (5) points for qualifying in the Super Sixteen field with one (1) bonus point awarded for qualifying in the top four positions. One (1) additional point is earned for each round win during eliminations. Ties are broken by (1) the earliest date upon which the final point total is earned, (2) quickest elapsed time recorded during the current SCSS season and (3) fastest speed recorded during the current SCSS season.
SEPTEMBER 15th, 2009 STLSR.COM SPORT TUNER SHOWDOWN FINAL ROUND
Pos Name Hometown ST Vehicle R.T. ET MPH
W
Craig Powell
,St. Louis, MO 87 231 Regal 0.128 11.981 112.07
RU Kurt Kreisz, St. Louis, MO 92 232 Thunderbird 0.153 12.047 114.38
Craig Powell, a longtime supporter of the
St. Louis Street Racing.com
Sport Tuner Showdown, became the category's fourth different winner in as many events while scoring his first STSS trophy over two-time champion Kurt Kreisz. Powell's gun metal grey '87 Regal, which competes as a member of the popular
TurboBuick.com
forums, enjoyed a near-perfect night. The St. Louisan not only recorded career-best performances but won the championship final in front of his crewchief/father, Jack.
Powell's V6-powered Buick, which is virtually stock with the exception of a slightly larger 49 mm turbocharger, qualified in the number one position with a best-ever 12.04/111.13. Only twelve hundredths of a second behind was Kreisz, whose supercharged 232-inch V6 Thunderbird Super Coupe ran a best of 12.16/112.97. The rest of the
Top Five Tuners
included four-time 2009 STSS finalist Brian Detert's supercharged rear-wheel-drive six-cylinder '05 Chrysler Crossfire, (12.28/112.87 followed by a career best-tying 12.08/113.95 only minutes after qualifying concluded), Anthony Samsel's extremely impressive turbocharged front-wheel-drive 2008 Mazda 3 (Protégé) Mazdaspeed, (a 12.94/111.02 during qualifying followed by a 12.96/112.45 in late timed trials), and Glen Johnson's incredible rear-wheel-drive 110-cubic inch '94 Miata autocrosser, (13.29/110.93).
Interestingly, both Powell and Kreisz elected to make timed trials after qualifying ended but before the final round. Both cars improved but the favoritism switched to the Ford; Powell's Buick ran a career-best 12.00/112.57 and Kreisz clocked a great 11.99/114.93 which made the impending trophy battle one of the closest of the season.
The final round lived up to its billing. Powell's Regal grabbed a slight holeshot of twenty-five thousandths of a second but the cars appeared to be glued together the length of the quarter-mile. At the finish line, Powell crossed first by ninety-one thousandths, (15.04 feet), with his first eleven-second pass, an 11.98/112.07 effort, to Kreisz's 12.04/114.38. "He was right there the
whole way!
", exclaimed Powell during trophy presentations in front of the main grandstands. "He was just hanging at my door and, right at the end, he started moving in on me. The finish line couldn't get there
quick
enough for me! I have to thank my dad, Jack. He was the original owner of this car before I bought it from him and it's been a project for both of us since then. It's been tough to get it to perform with mostly stock parts but to get our first win and our first eleven-second timeslip on the same run is pretty awesome!".
"It was a great race", said Kreisz, whose Super Coupe was adorned with new weight-saving front tires and wheels for the event. "I figured I saved over thirty pounds by swapping the old wide front tires and I guess the 11.99 proved it was a smart move. I have to mention all the folks at
Thunderbird Underground
; they always help with the tuning decisions and they're always behind me all the way".
SEPTEMBER 15th, 2009 GATEWAYRACEWAY.COM SUPER TRUCK SHOWDOWN FINAL ROUND
Pos Name Hometown ST Vehicle R.T. ET MPH
W
Kevin Autenrieth
, Bethalto, IL 91 434 S-10 0.020 8.881 150.73
RU Don Moore Pontoon Beach IL 91 468 S-10 0.178 10.431 126.65
Holding the winner's trophy after setting a new elapsed time record of 9.00 seconds in the final round of the September 1st
GatewayRaceway.com
Super Truck Showdown, Kevin Autenrieth smiled and said, "There's
more left
". The popular driver of the orange
Lowe Performance
434-inch nitrous oxide-injected smallblock Chevy-powered S-10 pickup proved, without a doubt, he wasn't kidding. Two weeks later, he stood in the same winner's circle holding another winner's trophy sporting an even bigger smile having accomplished every goal he'd set at the beginning of the season.
Autenrieth qualified atop what was a positively brutal field in the Super Truck Showdown. His 9.06/147.36 led the returning Don Moore's black 468-inch '91 S-10, (10.28/126.39), by a large margin although Moore and crewchief/engine builder Randy Morgan were still experimenting with a brand new engine and nitrous system. The rest of the top five included John Brawley at the helm of Ray Arthur's gorgeous 355-inch
"S-10 Revenge"
, (10.57 at a best-ever 136.88 mph), Gary Carter's impressive 406-inch '70 C-10, (a career-best 11.27/119.62), and four-time Super Truck finalist Al Ingram's '90 Silverado 454 SS now with a naturally-aspirated 468 Chevy power plant, (12.97/106.69). Of note was three-time Super Truck winner Pat McNeish, whose nine-second '86 Silverado retired with transmission problems after its first aborted qualifying attempt.
Prior to the final round, Autenrieth admitted his tuning combination had changed for the final round. "We're putting an extra 100 hp shot of nitrous to it on this run. It may spin the tires right away but, if it hooks, it's gonna be a ride!". After fogging in the starting line with one of his trademark burnouts, Autenrieth staged and launched with a brilliant 0.020 Reaction Time which strapped a tenth and a half on opponent Moore. The little orange truck rocketed to a best-ever 1.29-second sixty-feet ET and thundered to a 5.63/121.88 eighth-mile. Driving away from Moore's 10.43/126.65, Autenrieth blasted to the division's quickest and fastest run ever, an incredible
8.88 at 150.73 miles per hour!
While becoming the first Super Truck racer in the eight-second zone, Autenrieth also shattered Larry Richards' fifty-four week-old 149.07 mph speed record with the first Super Truck pass over 150 miles per hour!
With his wife, Sherry, in attendance, Autenrieth was quick to mention her support for his racing endeavors as he accepted his eighth career winner's trophy. "She knows how much this means to me and to have her behind me is more important than she knows. I also have to thank my brother, Rick; without him, I probably would've quit long ago. Glenn Behrens of
Glenn's Machine
in Round Rock, Texas, has helped me immensely. We did a lot of testing down there last winter to get the truck ready for these kinds of numbers. My best friend, Mike Maher, also lives down there. He has a low nine-second smallblock Camaro and we have a long distance rivalry going but I've definitely taken the lead in
that
battle. Of course,
Lowe Performance
has always been behind me, too. This is what we have been shooting for. To put a smallblock truck on D.O.T. tires into the eights at over 150 mph, that was our goal. To actually achieve it is just
incredible!
".
Photos of the
September 15th Street Car Shootout Series
event are now available for viewing at
Bret Kepner Photos.com
.
Tim "Moose" Mallicoat, Collinsville, IL 1968 565 Camaro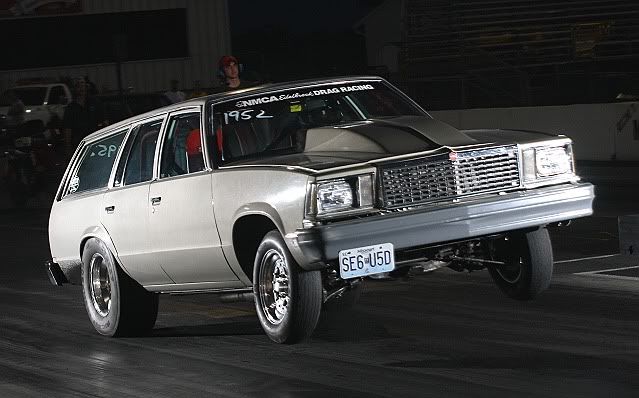 John Cadenhead, Festus, MO 1982 515 Malibu Wagon
Craig Powell, St. Louis, MO 1987 231 Regal
Kurt Kreisz, St. Louis, MO 1992 232 Thunderbird SC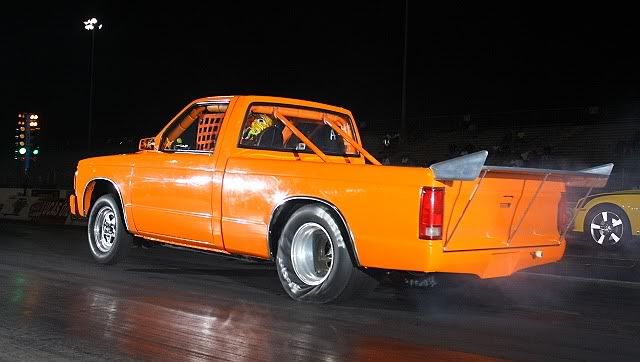 Kevin Autenrieth, Bethalto, IL 1991 434 S-10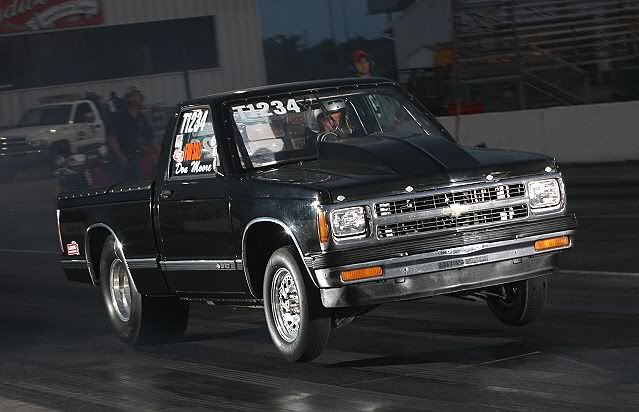 Don Moore, Pontoon Beach, IL 1991 468 S-10
Special Congratulations to Kevin Autenrieth and Lowe Performance
New SCSS Truck Elapsed Time and Speed Records!