These results reflect the record holders, qualifiers, and final round contestants at each of the
Street Car Shootout Series events held each Tuesday at Gateway International Raceway in Madison, Illinois.

All vehicles compete utilizing Department of Transportation (D.O.T.) approved tires. All other modifications are permitted. Tuesday SCSS Track Records can be set during the two official qualifying or championship rounds. The first official Street Car Shootout qualifying period begins at 6:00 PM with sessions continuing until 9:45 PM, (barring unforeseen circumstances). At 10:00 PM, the four quickest qualifiers meet in no-handicap eliminations advancing two winners to the championship final round. Each of the Top 16 qualifiers receives a "Fastest Street Car Qualifier" decal. The SCSS trophies and decals are presented by Gateway Raceway.com. Additionally, the two quickest Sport Tuner drivers, (open to all passenger cars except Rear-Wheel-Drive vehicles with engines of eight cylinders or more), also meet in a no-handicap championship round for trophies presented by St. Louis Street Racers.com and the two quickest Super Truck drivers, (open to all trucks and utility vehicles), meet in a no-handicap championship round for trophies presented by Gateway Raceway.com. All finalists in all categories also receive free digital images from the event courtesy of Bret Kepner Photos.com and one free entry to a future SCSS event.
GATEWAY INTERNATIONAL RACEWAY, MADISON, ILLINOIS
2009 STREET CAR SHOOTOUT SERIES TRACK RECORDS
Class Name Hometown ST Vehicle Engine ET MPH Date
RWD
Mark Woodruff
, Arnold, MO 69 Nova 706 Chevy
8.255
07/01/2008
RWD
Mark Woodruff
, Arnold, MO 69 Nova 706 Chevy
178.71
07/01/2008
4CYL
Jon Huber
, St. Louis, MO 79 Mustang 178 Ford
9.005
09/01/2009
4CYL
Jon Huber
, St. Louis, MO 79 Mustang 178 Ford
152.16
10/16/2007
TRK
Kevin Autenrieth
, Bethalto, IL 91 S-10 434 Chevy
9.065
07/01/2008
TRK
Larry Richards
, Hillsboro, MO 52 3100 427 Chevy
149.07
9/4/2007
6CYL
Tony Shoaff
, Mechanicsburg, IL 87 Regal 231 Buick
9.848
10/14/2008
6CYL
Tony Shoaff
, Mechanicsburg, IL 87 Regal 231 Buick
136.69
10/14/2008
DSL
Chris Calkins
, Union, MO 70 C-10 403 Chevy
9.875
9/25/2007
DSL
Chris Calkins
, Union, MO 70 C-10 403 Chevy
139.41
9/25/2007
RTY
Eric Cheatham
, Belleville, IL 93 RX-7 79 Mazda
10.048
9/26/2006
RTY
Eric Cheatham
, Belleville, IL 93 RX-7 79 Mazda
137.95
9/26/2006
AWD
Adnan Omerovic
, St. Louis, MO 95 Talon 122 Eagle
10.234
9/11/2007
AWD
Adnan Omerovic
, St. Louis, MO 95 Talon 122 Eagle
141.50
7/22/2008
FWD
Adam Corbitt
, St. Charles, MO 85 Golf 123 Volks
10.989
05/06/2008
FWD
Adam Corbitt
, St. Charles, MO 85 Golf 123 Volks
134.87
05/06/2008
SEPTEMBER 1st, 2009 STREET CAR SHOOTOUT SERIES QUALIFIERS
Pos Name Hometown ST Vehicle Engine ET MPH Date
EVENT 17 09/01/2009
1 Tim Mallicoat Collinsville IL 68 Camaro 565 Chevy 8.638 155.88
2 Kevin Autenrieth Bethalto IL 91 S-10 434 Chevy 9.005 147.92
3 James Landis Oreana IL 80 AMX 420 AMC 9.467 142.90
4 Brett Heidgerken Decatur IL 67 Chevelle 505 Chevy 9.862 139.49
5 Curtis Paulfrey Brighton IL 68 Camaro 502 Chevy 10.033 134.94
6 Mike Donnel Decatur IL 71 Camaro 540 Chevy 10.047 92.71
7 Kevin Musiro Granite City IL 92 Mustang 347 Ford 10.059 139.54
8 Eugene Dixon St. Louis MO 79 Malibu 454 Chevy 10.095 132.48
9 Greg Boschert St. Louis MO 66 Mustang 331 Ford 10.775 129.89
10 Nick Wren Moscow Mills MO 76 Nova 383 Chevy 11.346 118.81
11 Gary Cranmer East Alton IL 71 Monte Carlo 502 Chevy 11.359 118.16
12 Darryl Howard Bunker Hill IL 80 Malibu 468 Chevy 11.587 113.84
13 Jordan Watson Jerseyville IL 00 Mustang 281 Ford 11.683 118.25
14 John Hamer Labadie MO 67 Barracuda 340 Plym 11.703 113.75
15 Larry Walker St. Charles MO 78 Corvette 406 Chevy 11.741 117.69
16 Ian Williams St. Clair MO 69 Camaro 454 Chevy 11.843 117.69
SEPTEMBER 1st, 2009 STREET CAR SHOOTOUT SERIES FINAL ROUND
Pos Name Hometown ST Vehicle R.T. ET MPH
W
Tim Mallicoat
Collinsville, IL 68 565 Camaro 0.261 8.648 154.19
RU Mike Donnel Decatur, IL 70 540 Camaro 0.007 9.026 149.28
Tim "Moose" Mallicoat dodged a bullet in the final race of eliminations and managed to tie his own record for consecutive final round appearances during the sixteenth event of the 2009 Street Car Shootout Series at
Gateway International Raceway
in Madison, Illinois. Although his tenth consecutive event victory is still three from his incredible win streak of April 17th through August 21st of 2007, his fourteenth straight final round puts the two-time and defending SCSS season champion in position to set a new standard of dominance at the next series event.
The season's largest turnout of racers, (over two hundred and twenty), made for a packed event and, unfortunately, several major oildowns and five broken rearends turned qualifying into a one-shot proposition for the majority of competitors. Fantastic weather conditions presented a worst corrected elevation of 1169 feet above sea level which, during the final rounds, dropped to a mere 705 feet. Even with limited shots at the GIR quarter-mile, career-best performances were the rule rather than the exception. Mallicoat, who spent several weeks in August testing different lubricants in his
M&M Automotive/Huff Motorsports
"Hellraiser"
1968 Camaro, was up to the challenge of making the field on one qualifying attempt with a when he pushed his naturally-aspirated 565-cubic inch Chevrolet to a brutal 8.63-second pass at 155.88 miles per hour during the beginning of the second qualifying session to lead the field.
In fact, the biggest news of the qualifying period didn't come from Mallicoat. Kevin Autenrieth, whose orange
Lowe Performance
-sponsored 1991 S-10 pickup suffered a valvetrain failure during the August 1st SCSS event, unleashed an amazing 9.00-second blast to reset his own fourteen month-old Elapsed Time Record for Trucks in the SCSS program. Although the 147.92 mph speed on the run missed the 149.07 mark set by Larry Richards two years ago, Autenrieth's ET mark was the first SCSS record set in the 2009 season!
Behind the 434-cubic inch small block pickup was the equally outrageous manually-shifted, naturally-aspirated, 420-cubic inch AMC-powered 1980 AMX of Oreana, Illinois, competitor Jim Landis at a best-ever 9.46/142.90. Landis comprised one third of the infamous "Decatur Gang" which attended the race; making the three-hour trek from the Decatur, Illinois, area forty miles east of Springfield, Illinois, were Landis, Brett Heidgerken and Mike Donnel, all of whom played a role in the outcome of the event. Heidgerken, whose familiar maroon 505-inch '67 Chevelle was the first in SCSS history to run quicker than nine seconds back on October 11th, 2005, clocked a 9.86/139.49 while racing without his normal nitrous oxide injection. Donell made a half-pass to test a new nitrous combination in his astonishingly beautiful pink '71 540 Camaro and recorded a coasting 10.04 at only 92.71 mph but included a stout 5.68/116.85 eighth-mile performance. Squeezed between Heidgerken and Donnel was Curtis Paulfrey's yellow naturally-aspirated
Winner's Circle Tire and Auto
'68 502 Camaro with a career-best 10.03/134.94.
When the qualifiers were called to report in front of the grandstands for the semi-final round, Autenrieth elected to compete only in the Super Truck Showdown and Landis discovered a questionable oil leak in his Rambler's remote oil filter. Citing the expense of his Barry Allen-built powerplant, Landis noted, "Barry has too much time in that engine and I sure don't want to oil the track". First alternate Paulfrey had already left the property and was headed to work so second alternate Donnel got the call to report for competition. When alternates Kevin Musiro and Eugene Dixon failed to appear, Greg "Hook-N-Ladder" Boschert's nitrous-aided 333-inch white '66 Mustang coupe got the nod to race as fifth alternate.
Ironically, Heidgerken and Donnel were paired in the opening match and while the Chevelle cruised to an improved 9.75/138.22 without the "juice", Donnel blasted to a 1.33-second sixty feet elapsed time and another 5.68 eighth-mile but at a whopping 123.81 mph. This time, Donnel drove it to the finish line full throttle and was rewarded with a career-best 8.89 at 150.35 mph to become the fourteenth member of the SCSS Eight-Second Club and the twentieth member of the 150 MPH Club! Moreover, it became apparent to the fans in the grandstands that Mallicoat had serious competition. The "Moose" took the threat seriously and launched to his second-straight 1.26-second "sixty" before hitting an 8.68/156.05 to advance to the final round against Boschert. The St. Louis fireman had qualified with a 10.77 at a best-ever 129.89 mph on eight-inch-wide D.O.T. rear tires, ("pedaling" the throttle three times on the run!), but incinerated one rear axle's clutch packs against Mallicoat and "doglegged" to an 11.16/125.74.
With the prospect looming of the first new SCSS winner since May 5th, nearly every spectator remained to witness the championship battle. The crowd gasped when Donnel hit a brilliant 0.007-second Reaction Time and strapped a massive quarter-second holeshot on Mallicoat's black Chevy. At the sixty-feet mark, Donnel was a full car-length ahead of the "Moose" but the lead quickly disappeared and Mallicoat streaked to his tenth consecutive victory at 8.64/154.19 to Donnel's 9.02/149.28. During trophy presentations in front of the main grandstand, however, Donnel's head hung low. "You're not gonna believe this", Donnel said sheepishly, "but I totally blew that one myself. When I left the line, I realized Moose was nowhere near me and I actually looked over to see what happened. When I did that, I accidentally shifted from first gear straight into third. That killed the car in the midrange and all I could do was watch him drive around me". Adding insult to injury was the fact that, with the holeshot, Donell could've won the final round by four thousandths of a second if he'd simply
duplicated
his earlier 8.89/150.35 run…and his sixty-feet ET was
six thousandths of a second quicker in the final round!
"I know how tough it is to beat that man", said Donell of his final-round foe, "and I can't believe I threw away a chance to actually nail him. The Decatur guys aren't gonna let me forget
this
one for a while!".
"I guess you could say I was there for the taking", said Mallicoat as he collected a record thirty-eighth title in SCSS competition, "but I really have to rely on my car's consistency to save me in situations when I'm a little late on the 'Tree. We've worked hard to put ourselves in a position where the other driver truly has to
beat
me and, with a reaction time like Mike had, it can be done even with a slower car. Sometimes, we have to race against the high-horsepower cars like O.J. (Johnson) and other times we have to go up against the really great drivers like Mike. It ain't easy bein' everybody's target!".
NOTES FROM THE SCSS:
...Fans were intrigued to find out the both runner-up
Mike Donnel
and fourth qualifier
Brett Heidgerken
were running on
E85 ethanol
during the event and both compete in the
Pro E85 Series
throughout the year. "We actually buy it at a Marathon station in Decatur", Donell told interested spectators and racers in the winner's circle, "and it takes a proper tune-up due to the increased amount of fuel you need to burn. Once you get the tune correct, though, it really works well. It's definitely a viable alternative fuel and the 8.89/150 run earlier proves it works!"…An amazing
74.12% of all entries on the property ran quicker than thirteen seconds
during the event…Like many racers,
Ray Arthur
only got one chance to qualify for the Super Sixteen but his well-known
"Suspicion"
'67 496 Camaro launched into its highest wheelstand ever and Arthur was forced to lift off the throttle when the Chevy landed hard. His DNQ allowed
Curtis Paulfrey
to put more distance on Arthur's current third position in the season championship point standings…Another surprising nonqualifier was
Jeremy Mifflin's
'88 Mustang from the
Bill Silva's
"Silva Bullet"
team. Silva admitted, "We're trying some fairly radical stuff right now and we just haven't gotten it worked out yet"…In a rare scenario,
Kevin Baustian's
extremely quick 2009 Dodge Challenger and
Jason Halik's
'03 Mustang both joined the SCSS 120 MPH Club in the 227th and 228th positions, repectively, yet neither qualified for the Super Sixteen field! Baustian hit a best of 11.87/120.50 while Halik ran 11.98/121.89 during qualifying and clocked a 12.11/122.41 in late timed trials…Unheralded
Kevin Musiro's
347-inch '92 Mustang qualified with a tremendous 10.05/139.54 to become the 128th member of the 10-Second Club and the 75th member of the 130 MPH Club. He later ran a 10.70/135.52 and 10.42/126.35 in late timed trials…
Eugene Dixon's
454-powered '79 Malibu also joined both 10-Second and 130 MPH Clubs with a 10.09/132.48 in qualifying for his first
Super Sixteen
field…Another '80 "Bu",
Darryl Howard's
468-powered version, qualified for the first time with an 11.58/113.84 best…
Jordan Watson's
2000 Mustang also slipped into the
Super Sixteen
with an 11.68/118.25 best…
Ian Williams
nailed down the season's third quickest "bump spot" with an 11.84/119.84 from his '69 454 Camaro…
Larry Walker's
white '78 406 Corvette ran a best-ever 11.74/117.69 to qualify and then unloaded a great 11.59/118.90 after qualifying concluded…
Lee Edgar's
familiar '89 302 Mustang just missed its career-best ET with a 12.03 in qualifying but did score its best speed yet at 111.41 mph…
Nick Wren's
383-inch smallblock '76 Nova also earned its first
"Fastest Street Car Qualifier"
decal with an 11.34/118.81 for tenth spot in the field…
John Hamer
has earned just about every title possible at GIR in 2009. The Labadie, Missouri-based MoPar driver has put his flamed burgundy 340-powered '67 Barracuda into the winner's circle in both bracket and Index competition and qualified for his first
Super Sixteen
field with an 11.70/113.75 best…Late model supercars were in abundance;
Kevin Baustian's
2009 Challenger ran a great 11.87/120.50,
Dean Kevorkun's
2010 Camaro hit 12.73/110.94,
Michelle Hommert's
2010 Camaro clocked a 12.84/110.50 best and
Shane Hinds
pushed his white 2009 Pontiac G8 GT to a 12.99/107.50...
Bryan Gabbert
took the late-season lead for the title of
"Most Expensive SCSS Entry"
with his 2007 BMW M6, (which hit a best of 12.79/115.32). The 500-horsepower, naturally-aspirated 305-inch V-10-powered beast with a seven-speed clutchless transmission and a carbon-fiber roof retailed for
$106,610!
2009 STREET CAR SHOOTOUT SERIES CHAMPIONSHIP POINT STANDINGS (Top 10 of 123 as of SEPTEMBER 2nd, 2009)
Pos Points Name Hometown ST Vehicle Engine
1 (111) Tim Mallicoat Collinsville IL 68 Camaro 565 Chevy
2 (82) Curtis Paulfrey Brighton IL 68 Camaro 502 Chevy
3 (74) Raymond Arthur Edwardsville IL 67 Camaro 496 Chevy
4 (45) Greg Boschert St. Louis MO 66 Mustang 331 Ford
5 (40) Orson Johnson House Springs MO 99 Mustang 281 Ford
6 (30) John Brawley Granite City IL 93 S-10 355 Chevy
7 (28) Don Moore Pontoon Beach IL 91 S-10 468 Chevy
8 (20) Matt Mingus Florissant MO 62 Nova 355 Chevy
9 (20) Dan Harris St. Louis MO 04 Mustang 232 Ford
10 (18) Jon Huber St. Louis MO 79 Mustang 178 Ford
NOTE: Points toward the 2009 Street Car Shootout Series Season Championship are awarded on the basis of five (5) points for qualifying in the Super Sixteen field with one (1) bonus point awarded for qualifying in the top four positions. One (1) additional point is earned for each round win during eliminations. Ties are broken by (1) the earliest date upon which the final point total is earned, (2) quickest elapsed time recorded during the current SCSS season and (3) fastest speed recorded during the current SCSS season.
SEPTEMBER 1st, 2009 STLSR.COM SPORT TUNER SHOWDOWN FINAL ROUND
Pos Name Hometown ST Vehicle R.T. ET MPH
W
Dan Harris
St. Louis MO 04 232 Mustang 0.028 12.459 107.60
RU Brian Detert St. Louis MO 05 195 Crossfire 0.297 12.276 110.81
The
St. Louis Street Racing.com
Sport Tuner Showdown featured a Dan Harris-versus-Brian Detert, Ford-versus-MoPar championship round battle for the fourth time in the last seven STSS events and, for the second time, the slower car won! Harris, at the helm of his 232-inch
"Six Bang 'Stang"
'04 Mustang, took his fifth victory in twelve final rounds this season.
Detert, whose unique supercharged six-cylinder silver '05 Chrysler Crossfire has been the year's winningest Chrysler product, led the qualified field with a 12.24/111.21 followed by Harris' nitrous-aided V6 Ford at 12.50/107.64. The rest of the
Top Five Tuners
included James May in his black mid-engined six-cylinder 2002 Acura NSX, (13.52/105.89), Zac Knoblauch's '01 Honda S2000, (14.14/97.88), and Robert Hamm's 2007 Cobalt SS, (14.19/101.74), all three of which were best-ever performances.
Detert had scored his first STSS trophy in the duo's most recent meeting but Harris struck back hard. A quarter-second holeshot was enough to keep the Crossfire at bay all the way to the stripe with the Mustang winning at 12.45/107.60 despite Detert's substantially quicker 12.27/110.81! Although the difference was only 13.77 feet at the finish line, Harris knew his reaction time could change the outcome. "We've raced each other enough times that I knew when we staged the better launch could take it", said Harris during winner's circle ceremonies in front of the main grandstands. "Each of us has had tire spin problems during the year which means neither of us has a clear horsepower advantage so, really, either car can win at any time. One of these times, we'll have a race where everything works perfect on both cars and both drivers get a great reaction. That'll be something to see!".
SEPTEMBER 1st, 2009 GATEWAYRACEWAY.COM SUPER TRUCK SHOWDOWN FINAL ROUND
Pos Name Hometown ST Vehicle R.T. ET MPH
W
Kevin Autenrieth
, Bethalto, IL 91 434 S-10 0.138 9.015 147.20
RU Daniel Harris, St. Louis, MO 70 350 C-10 -0.006 (foul) 18.807 60.33
After recording the quickest and fastest truck run of the season at 9.31/146.23 during the August 4th event only to be forced to withdraw with valvetrain problems, Kevin Autenrieth came prepared for the September 1st battle in the
GatewayRaceway.com
Super Truck Showdown. The popular driver of the orange
Lowe Performance
434-inch nitrous oxide-injected smallblock Chevy-powered S-10 pickup got only one chance to get it right, making his sole qualifying run only two minutes before the official qualifying periods ended. With his 9.06-second Super Truck Elapsed Time Record standing since July 1st, 2008, few fans expected anything even close to that performance when Autenrieth fogged-in the starting line with one of his trademark "monster burnouts". When he launched with a tremendous 1.31-second sixty-feet ET, however, all bets were off. The S-10 charged to a 5.70/119.95 eighth-mile and then continued on the quickest Super Truck run ever, a blistering 9.00 at 147.92, to completely overwhelm the field.
With none of the series' other nine-second and ten-second trucks in attendance, qualifying position was almost a moot point after Autenrieth's pass. The rest of the qualifiers included Willie McGee's '79 350 El Camino, (12.28/111.75), Andrew Rhodes in his '82 406 S-10, (12.45 at only 78.38 mph after developing engine problems), Matt Hamilton's 2004 Ford Lightning, (12.87/105.89), and Ken Sanders' '83 360 Dodge Dakota, (12.91/112.07). Ironically, none was able to meet Autenrieth for the trophy dash and fourth alternate Daniel Harris, father of Sport Tuner killer Dan Harris, was called in to race the record-holding S-10 with his outrageous '70 C-10 pickup. Harris had qualified with a best of 13.30/103.95 but had hit a career-best 12.73/101.52 in late timed trials before the final round. The event marked the first time a father/son team reached the final rounds of two different classes since "Moose" Mallicoat and his son, Tim, Jr., achieved the feat on July 7th, 2009.
Harris gave the Christmas Tree his best shot in the title bout but fouled by a mere six thousandths of a second. It mattered little, however; Autenrieth made a play for the series' first eight-second truck run on D.O.T. tires but, despite progressive numbers nearly identical to his qualifying effort, fell just short with a 9.01/147.20. "I guess the 'eight' will have to wait!", laughed Autenrieth while accepting his eighth career winner's trophy. "We really made some gains with this truck during the spring and it's just now beginning to produce the numbers we knew it could lay down. An eight-second timeslip would be great and so would 150 miles per hour but, right now, we're just happy it's still in one piece. Now, we can lean on it
next
week!".
Photos of the
September 1st Street Car Shootout Series
event are now available for viewing at
Bret Kepner Photos.com
.
Tim "Moose" Mallicoat, Collinsville, IL 1968 565 Camaro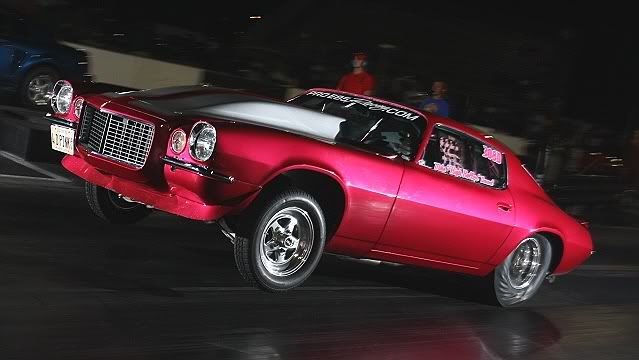 Mike Donnel, Decatur, IL 1971 540 Camaro
Dan Harris, St. Louis, MO 2004 232 Mustang
Brian Detert, St. Louis, MO 2005 195 Crossfire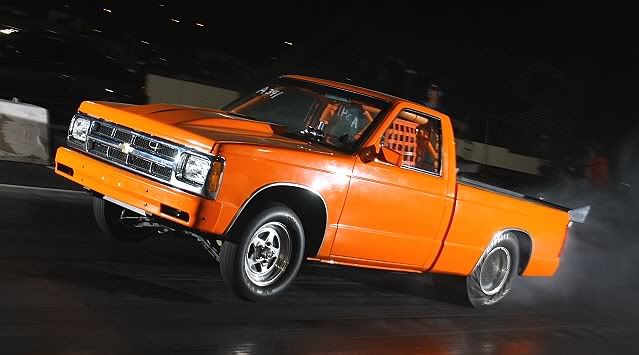 Kevin Autenrieth, Bethalto, IL 1991 434 S-10
New SCSS Truck Elapsed Time Record Holder at 9.005 seconds!
Daniel Harris, St. Louis, MO 1970 350 C-10