These results reflect the record holders, qualifiers, and final round contestants at each of the
SX Performance Street Car Shootout Series events held each Tuesday at Gateway
International Raceway in Madison, Illinois.

Tuesday SCSS Track Records can be set during official qualifying or championship rounds. The
official qualifying period begins at 6:30 PM and concludes at 9:00 PM, barring unforeseen
circumstances. At 9:30 PM, the two quickest qualifers meet in a no-handicap championship round for
trophies. Each of the Top 16 qualifiers receives a "Fastest Street Car Qualifier" decal. The SCSS
trophies and decals are presented by SX Performance Fuel Systems in St. Louis, MO (6
Sunnen Drive, 314-644-3000, http://www.sx-performance.com ). Additionally, the two
quickest Sport Tuner drivers, (open to all passenger cars except Rear-Wheel-Drive vehicles with
engines of six cylinders or more), also meet in a no-handicap championship round for trophies
presented by http://www.GatewayRaceway.com and the two quickest Super Truck drivers,
(open to all trucks and utility vehicles), meet in a no-handicap championship round for trophies
presented by http://www.GatewayRaceway.com .
GATEWAY INTERNATIONAL RACEWAY, MADISON, ILLINOIS
2006 SX PERFORMANCE STREET CAR SHOOTOUT TRACK RECORDS
Class Name Hometown ST Vehicle Engine ET MPH Date
RWD
Brett Heidgerken
, Decatur, IL 67 Chevelle 505 Chevy 8.871 10/11/2005
RWD
Brett Heidgerken
, Decatur, IL 67 Chevelle 505 Chevy 153.88 10/11/2005
TRK
Kevin Autenrietch
, Bethalto, IL 84 S-10 355 Chevy 9.772 9/28/2004
TRK
Kevin Autenrietch
, Bethalto, IL 84 S-10 355 Chevy 135.39 9/28/2004
6CYL
Rob Nolan
, Granite City, IL 87 Regal 231 Buick 11.041 10/11/2005
6CYL
Rob Nolan
, Granite City, IL 87 Regal 231 Buick 124.56 4/11/2006
4CYL
Joe Laramee
, Decatur, IL 77 Pinto 147 Ford 10.544 4/11/2006
4CYL
Joe Laramee
, Decatur, IL 77 Pinto 147 Ford 129.87 4/18/2006
FWD
Adam Corbitt
, St. Charles, MO 85 Golf 122 Volks 11.583 5/23/2005
FWD
Adam Corbitt
, St. Charles, MO 85 Golf 122 Volks 126.86 5/23/2005
RTY
Eric Cheatham
, Belleville, IL 93 RX-7 79 Mazda 11.936 8/30/2005
RTY
Derek Coffman
, Valley Park, MO 94 RX-7 79 Mazda 122.21 8/10/2004
DSL
Phillip Blackburn
, Springfield, IL 03 2500 HD 403 Chevy 11.835 8/2/2005
DSL
Phillip Blackburn
, Springfield, IL 03 2500 HD 403 Chevy 114.29 8/2/2005
MAY 23rd, 2006 SX PERFORMANCE STREET CAR SHOOTOUT QUALIFIERS
Pos Name Hometown ST Vehicle Engine ET MPH Date
EVENT 8 5/23/2006
1 Daryl Jauernig St. Louis MO 89 Mustang 393 Ford 9.794 127.68
2 Brett Heidgerken Decatur IL 67 Chevelle 505 Chevy 9.998 139.24
3 Mike Donnel Decatur IL 71 Camaro 461 Chevy 10.207 130.94
4 Faisal Merghelani St. Louis MO 02 Camaro 346 Chevy 10.232 135.21
5 John Doswell Decatur IL 70 Nova 468 Chevy 10.529 128.15
6 Tony Buhl Lebanon IL 89 Mustang 331 Ford 10.640 128.36
7 Tom Monehan Villa Ridge MO 66 Chevelle 550 Chevy 10.963 124.08
8 Jimmy Robbins Barnhart MO 68 Chevelle 454 Chevy 11.091 119.76
9 Hal Marshall Collinsville IL 86 S-10 350 Chevy 11.096 124.80
10 George Wahby Fenton MO 74 Pinto 350 Chevy 11.218 118.13
11 Tom Bantle, Jr. St. Louis MO 89 S-10 355 Chevy 11.254 120.69
12 Tony Lindahl Ballwin MO 03 Mustang 281 Ford 11.292 123.97
13 Matthew Meyers Wood River IL 79 Malibu Wagon 355 Chevy 11.296 118.59
14 Rob Angle Bunker Hill IL 67 Barracuda 418 Plym 11.401 116.17
15 Don Albert Collinsville IL 77 Nova 454 Chevy 11.477 118.36
16 Joe Williams Maryville IL 67 Camaro 383 Chevy 11.520 118.60
MAY 23rd, 2006 SX PERFORMANCE STREET CAR SHOOTOUT FINAL ROUND
Pos Name Hometown ST Vehicle R.T. ET MPH
W
Brett Heidgerken
, Decatur, IL 1967 505 Chevelle 0.309 9.139 151.41
RU Daryl Jauernig, St. Louis, MO 1989 393 Mustang 0.041 9.937 101.58
Perfect weather, a large field of entries, and record-smashing performances marked the return to the
winner's circle of the quickest and fastest driver ever to compete in the SX Performance Street Car
Shootout Series at Gateway International Raceway. Brett Heidgerken, whose brutal 505-cubic inch
'67 Chevelle dropped the SCSS records into the 8.80s at over 153 miles per hour at the
season-ending event in 2005, squeaked out his second career victory in a thrilling final round with
returning veteran Daryl Jauernig's smallblock Mustang. The race was filled with career-best efforts
resulting in a field requiring a record 11.52-second run just to qualify for the Super Sixteen program!
Although the numbers were amazing, the battle took its toll on several of the strongest-running SCSS
machines in another bizarre night of action. Of the rampant carnage throughout the evening,
four-time SCSS event winner Dave Odenahl said, "I've seen everything break here tonight. It's
insane!".
A fantastic racing surface and atmospheric conditions ranging from a corrected elevation of 1605
feet above sea level at the event's start to a reading of 1016 feet above sea level during the final
rounds certainly helped the barrage of record times. For the second straight week, a variety of the
National Hot Rod Association's best Pro Stock entries were involved in testing, this time for the
upcoming NHRA O'Reilly Auto Parts Summer Nationals in Topeka, Kansas. Coweta, Oklahoman,
Mike Edwards pushed his 2006 Chevy Cobalt to a 6.71-second blast at a track record 206.35 mph
speed in the first minutes of the event to prove the track was ready.
Timed trials were marked by an 11.05/127.73 effort from Tony Buhl's Vortech-blown '89 Mustang on
the very first run down the track but once the official qualifying period began the pace became more
than hectic. Within a half-hour the Super Sixteen bump spot dropped into the twelve-second zone
with record holder Heidgerken's maroon Chevelle unloading a 9.99 at 139.24 mph straight from its
133-mile trip from Decatur, Illinois. Buhl returned to hit a 10.64/128.36 followed by Jauernig,
(pronounced
"journey"
), whose 393-inch '89 Mustang hit a 10.60/127.68 only minutes later.
Jauernig had recorded runs as quick as 10.51/130 while scoring three wins in four final rounds
during the 2004 season but spent all of 2005 building what he believed would be a more potent
powerplant for his Mustang Muscle Performance machine. The hopes of Ford fans faded quickly,
however, when Faisal Merghelani's silver 2002 Camaro, (which had been low qualifier the previous
week before rains washed out the final round), thundered to a 10.23 at 135.21 mph to secure the
second slot behind Heidgerken.
At that point in the program, things got weird. Greg "Hook-n-Ladder" Boschert's white '66 Mustang
coupe left the line on what could have been another ten-second run until a major backfire just before
halftrack killed the 331-inch Ford's power. As Boschert coasted to a stop in the shutdown area, the
St. Louis fireman realized his worst fear when an engine fire developed under the hood. The GIR
safety crew met the coasting Mustang and doused the flames before serious damage could result but
Boschert's mount was done for the event. Tony Huff, the current SCSS point leader whose silver '69
Nova had charged to a best-ever 9.99/131 only seven days before, experienced a serious electrical
malfunction in the water box during his first qualifying attempt and the horrific noises eminating from
Huff's 468-inch Chevy sent the Collinsville, Illinois veteran back to the pits to attempt repairs. David
Starns once again struggled with transmission gremlins and the St. Louisan was unable to get a full
run to the finish line. Meanwhile, the bump spot continued to nosedive into the low twelve-second
zone...even with three of the strongest SCSS entries sidelined!
With forty-five minutes remaining in the qualifying period, John Doswell's Decatur, Illinois-based '70
468 Nova had supplanted Jauernig in the third slot with a 10.52/128 and the bump spot had dipped
into the elevens. The third member of the Decatur-based Pure Performance Racing Team, Mike
Donnel's wild winged '71 460 Camaro, hit a 10.54 at only 111 mph to drop the best-qualified Ford,
(Jauernig at 10.60), down to fifth position. Heidgerken made one last qualfifying shot but admittedly
missed the fuel curve by a mile with the Chevelle coughing to a 10.37/128.10. With fifteen minutes
reamining in qualifying, no serious threats were made save for the exceptional 10.96/124.08 effort by
Tom Monehan's gorgeous blue 550-inch '67 Chevelle from Villa Ridge, Missouri. The bump spot
continued to plummet, however, and neared the 11.62 record set at the final SCSS event of 2005.
With four minutes left in which to qualify, Jauernig pulled to the line alongside Buhl in one last shot
to produce a big number from his deep purple Mustang. On the launch, Jauernig clocked an amazing
1.38-second 60-feet ET and at halftrack the clocks rang up an incredible 6.12 at 113 mph! At the
1000-feet mark, the brake lights lit up on the Ford and Jaurnig coasted across the finish line...but the
crowd literally erupted into cheers when the scoreboards posted a 9.79 at only 118 miles per hour! In
the last minute of qualifying, Donnel's Camaro charged to a best-ever 10.20/130.94 which, until
Jauernig's run, would've gotten into the final round with close friend Heidgerken. Suddenly, the Ford
was the favorite!
Dave Odenahl, whose infamous black Camaro is still parked after damage suffered during the May
9th SCSS event, spent the evening assisting Jauernig and admitted the Mustang had plenty of
new-found power. "We planned to only make a 1000-foot run", said Odenahl, "because we really had
no idea what it was going to do." Jauernig added, "This isn't my biggest motor but we knew it would
be a good one. It's definitely the fastest one I've ever built!".
As Jauernig waited for Heidgerken in front of the main grandstands, the Illinois pilot was busy
loading a fresh nitrous oxide bottle for the championship dash. The Burkhart Chassis-backed
Chevelle had also been freshened over the winter and Heidgerken, along with the rest of the Pure
Performance team, was anxious to see the fruits of his labor. While the Ford fans were aware that
Jauernig's eighth-mile performance indicated solid 9.50 potential, the Chevy supporters knew well
the power of the Illinois Chevelle.
After thundering burnouts, the two pulled to the line for a classic smallblock Ford-versus-bigblock
Chevy trophy dash. Jauerig was the last to stage and, at the hint of green, strapped a
quarter-second holeshot on the Chevelle. While Heidgerken was late, his problems were
compounded when the Chevy drifted out of the groove early. At the 330-feet mark, the Ford was
ahead by far more than a carlength (28.79 feet). At the halfway point, Jauernig was still ahead by
roughly the length of the Mustang itself (16.77 feet). Heidgerken's 5.91/121 eighth-mile power was
beginning to make the difference, however. At 1000 feet, Jauernig looked over to see the Chevelle
pull alongside by a mere 1.27 feet. When the Chevelle continued to pull away, Jauernig took his foot
off the throttle and watched Heidgerken charge on to a tremendous 9.13 at a ****ping 151.41 miles
per hour. Jauernig coasted through at 9.97 with a speed of only 101!
"I kept looking around for you and thinking
'Where is he?'
", said Jauernig to Heidgerken during
the awarding of the trophies. "You were
waaay
out there, buddy!", replied Heidgerken, "There
was a point where I really wondered if I was going to catch that thing!". Jauernig later admitted the
coasting run was part of the plan. "Dave (Odenahl) and I decided that I would stay in it until he came
around me. This motor really hasn't been run very much and we planned to go easy on it tonight. I
thought I was gonna have to leg it down there for a while but when he came on by I knew I wasn't
going to catch him. I did what I could on the starting line and it was almost enough!".
NOTES FROM THE SCSS:
With Tony Huff failing to qualify, Tony Buhl and Hal Marshall are
now in a tie for the point lead with five "Fastest Street Car Qualifier" decals each. The point
championship is determined by the number of Qualifier stickers earned...Huff's event was a total
nightmare. The team fixed the earlier problem and were four pairs back when qualifying ended.
Huff's run, made four minutes after the deadline, was a 10.15 at only 123 mph...Faisal Merghelani
made a late timed trial after qualifying ended and screamed to a 9.69 at 142.46 mph which would
have easily qualified the Team Rigged and Jimmied Camaro for the final round...Matt Meyers
stepped up almost a full second from his best performances in his '81 Malibu Wagon with an
11.29/118...Along with the record 11.52 bump spot for sixteen cars, Jimmy Robbins' orange '68
Chevelle set the mark for the quickest Top Eight ever at 11.09/119...Mike Donnel became the 20th
member of the SCSS 130 MPH Club...Tom Monehan, Tom Bantle and Tom Decosta, (who fried the
clutch in his Copperhead Viper last week but returned to clock an 11.68./124.52 which didn't even
qualify), became the 80th, 81st and 82nd members of the SCSS 120 MPH Club...Fourteen of the top
twenty-two qualifiers clocked their quickest and/or fastest runs ever...Had Huff, Starns and Boschert
made even mediocre representative runs, the sixteen-car bump spot could have easily been quicker
than 11.30 seconds.
SX PERFORMANCE STREET CAR SHOOTOUT SERIES CHAMPIONSHIP POINT
STANDINGS (as of MAY 24th, 2006)
Pos Name Hometown ST Vehicle Engine
1 (5) Tony Buhl Lebanon IL 89 Mustang 331 Ford
2 (5) Hal Marshall Collinsville IL 86 S-10 350 Chevy
3 (4) Tony Huff Collinsville IL 68 Nova 468 Chevy
4 (3) Dave Odehnal Waterloo IL 93 Camaro 350 Chevy
5 (3) Greg Boschert St. Louis MO 66 Mustang 331 Ford
6 (2) Matt Verbeck Troy IL 68 Camaro 383 Chevy
7 (2) Joe Laramee Decatur IL 77 Pinto 147 Ford
8 (2) Rob Nolan Granite City IL 87 Regal 231 Buick
9 (2) Gary Bates O'Fallon MO 04 GTO 346 Pont
10 (2) David Starns St. Louis MO 91 Mustang 355 Ford
11 (2) Chris Stauffer S. Roxana IL 81 El Camino 355 Chevy
12 (2) Jim Harris O'Fallon MO 03 Corvette 346 Chevy
13 (2) Faisal Merghelani St. Louis MO 02 Camaro 346 Chevy
14 (2) Matthew Meyers Wood River IL 79 Malibu Wag 355 Chevy
MAY 23rd, 2006 GATEWAYRACEWAY.COM SPORT TUNER SHOWDOWN FINAL
ROUND
Pos Name Hometown ST Vehicle R.T. ET MPH
W
Ross Accardi
, Moro, IL 1990 122 Eclipse 0.577 12.328 113.92
RU Jason Kath, Bridgeton, MO 1994 176 3000 GT -0.095 13.169 109.26
The destruction which ripped through the SCSS ranks also affected the Sport Tuner Showdown
Series portion of the event and, no doubt, changed the outcome of the STSS championship dash.
The race featured the return of the SCSS Front-Wheel-Drive Elapsed Time Record Holder, Adam
Corbitt's amazing '85 Volkswagen Golf GTi. Sporting a new paint scheme complete with ghost flames
and sponsorship by Polk Audio, the turbocharged two-litre pitched a huge plume of smoke on the
car's first run of the year, a 12.27 at 120.50 mph. Adam and his brother/crewchief Dave returned for
a second run, however, and annihilated their own 11.62-second ET record and the 122.66 mph
Speed Record, (set last October by Justin Bondurant's well-known Neon SRT-4), with an 11.58 at an
amazing 126.86 mph.
The team's third run was disasterous. A blown head gasket on a 12.10 at 125.39 (!) not only dumped
water the length of the track but put the Golf out of commission for the event. "We decided to
pressure-check the cooling system on that run", joked Dave from the spectator fence, "but we'll be
back". With the Corbitts out of the program, past STSS runner-up Ross Accardi inherited the pole
qualifying position with career-best numbers of 12.61 and a surprising 115.62 mph from his black
Mitsubishi Eclipse. Also gaining a final-round berth was Jason Kath, whose immaculate red '94
Mitsubishi 3000 GT had clocked 12.70/109 in 2005 STSS action, (and 12.40s in late-season testing),
to become the series' strongest All-Wheel-Drive six-cylinder. The turbo GT wasn't running to
expectations with a best of 12.93/109.42 but Kath's problems paled in comparison to what Accardi
was experiencing.
"Ever since I had it on the dyno recently, the motor just stops running at 6200 RPM", said Accardi,
holding a dyno sheet which showed 414 horsepower and an instantaneous cutoff at that RPM. "I'm
having to use fifth gear just to get it to the finish line. The speed proves it should be going a lot
quicker than 12.60s". When both Accardi and Kath were prepared to run the final round, (locking Jon
Blaylock's '03 Mitsubishi Evo 8, fourth qualifier at 13.34/103, out of its third straight final round
appearance), each admitted it would be a close race.
The only close part was Kath's redlight by a tenth of a second. While the red 3000 GT slowed to a
13.16/109.26, Accardi stretched the gears as far as he dared and ripped to a best-ever 12.32 at
113.92 on a run in which the 60-feet ET was more than a tenth of second slower than his earlier
1.68-second pace. For the Moro, Illinois racer, whose first final round appearance came on August
9th, 2005, it was more than good enough for his first STSS victory.
MAY 23rd, 2006 GATEWAYRACEWAY.COM SUPER TRUCK SHOWDOWN FINAL
ROUND
Pos Name Hometown ST Vehicle R.T. ET MPH
W
Hal Marshall
, Collinsville, IL 1986 350 S-10 0.320 11.550 116.76
RU Kevin Goss, Brighton, IL 1978 406 El Camino 0.112 12.232 111.08
"Animal Hal" Marshall's only loss since the August 30th, 2005 Super Truck Showdown Series event
came at the 2006 season opener when his all-conquering Chevy S-10 lost out to past GIR bracket
racing season champion Kevin Goss. Although the Collinsville, Illinoisan never thought he'd have a
rematch with Goss so soon, he found himself lining up with the supercharged '78 El Camino yet
again.
After an 11.09/124.80 which not only qualified number one in the Super Truck Showdown but kept
him in the point race for the SCSS series, Hal's new transmission began faltering yet again. "I'm
getting really tired of this thing", said Hal, "It's wearing me out!". Hal was also surprised at the black
S-10 pickup debuted at the race by Tom Bantle, who made waves last season in SCSS racing with
an eleven-second '81 Malibu. Bantle's new truck hit a strong 11.25/120.69 and looked to give Hal
some serious competition until major engine problems put the new rig on the sidelines. Goss was
called in as the first alternate and fully hoped to repeat his opening night upset.
Sure enough, Goss duplicated the two-tenths-of-a-second holeshot which helped win the April 4th
title and, when Hal's tranmission began slipping out of gear during his pursuit, it almost looked like
Goss was going to nip Hal again at the finish line. Marshall reeled in the truck, however, to take an
11.55/116 to 12.23/111 win. With his ninth win in twelve finals, The King of Tuesday Night still sees
no serious threats on the horizon...yet.
Photos of the May 23rd SX Performance Street Car Shootout Series event are now available for
viewing at
Bret Kepner Photos
.
Brett Heidgerken, Decatur, IL 1967 505 Chevelle
Daryl Jauernig, St. Louis, MO 1989 393 Mustang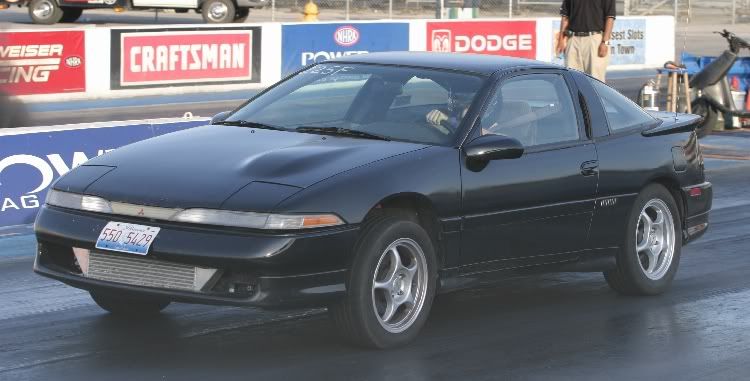 Ross Accardi, Moro, IL 1990 122 Eclipse
Jason Kath, Bridgeton, MO 1994 176 3000 GT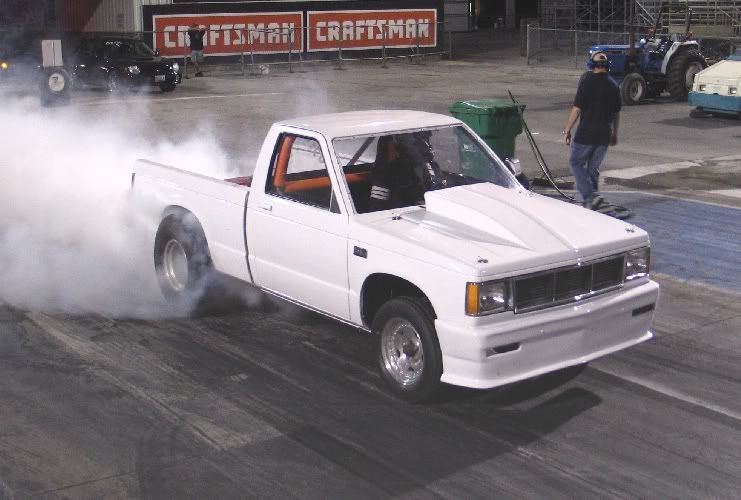 Hal Marshall, Collinsville, IL 1986 350 S-10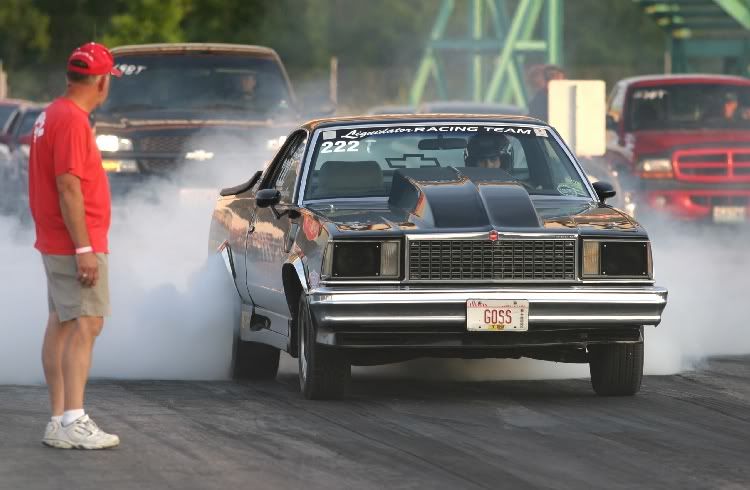 Kevin Goss, Brighton, IL 1978 406 El Camino