The Artist FKA Scott4DMny
Update 8-23-14: Only fuel rails are left, everything else sold!
I have for sale a fuel system that I had planned to run E85 on, and due to my current situation, I am putting it up for sale. I know the first thing someone is going to ask is for me to separate the Champion fuel rails. I am selling this ONLY as a complete kit as I ordered all the O-ring fittings etc. for it. It is setup for a dual feed. Everything is new never installed:
Aeromotive A1000 Stealth 15 Gallon Aluminum Cell Part number 18660
Aeromotive Fuel Pressure Regulator Part number 13101
Aeromotive Fuel Filter
Aeromotive Fuel Pump Controller Part Number 16306
2 Aeromotive Fuel Filter Brackets
Aeromotive Fuel Distribution "Y" Block
2 15ft rolls of -8 Aeroquip Teflon Braided lines
Champion Fuel Rails(had them anodized to run E85)
Bulkheads to run lines through trunk floor.
Breathers for vent lines.
It has all new Black O-ring to -8AN fittings, and all new fittings for the teflon hose. You can see how many 45's, 90's and straight fittings are in there. Plenty to do a system from front to back.
All of this retails for over $2,000 and that is not even including the fittings.
The Fuel cell has a -10 outlet on the pump, the fuel filter has -10 inlet/outlet, and the fuel pressure regulator has two -10 inlets, and -6 return. All of these come with adapters to go to -8.
I also have the insulated clamps for the lines as you see in the photo.
Asking $1500 OBO for the package. I will consider a trade plus cash for an excellent condition old school ATR front mount or any non-china front mount that has 2.5" pipes.
Here are the photos.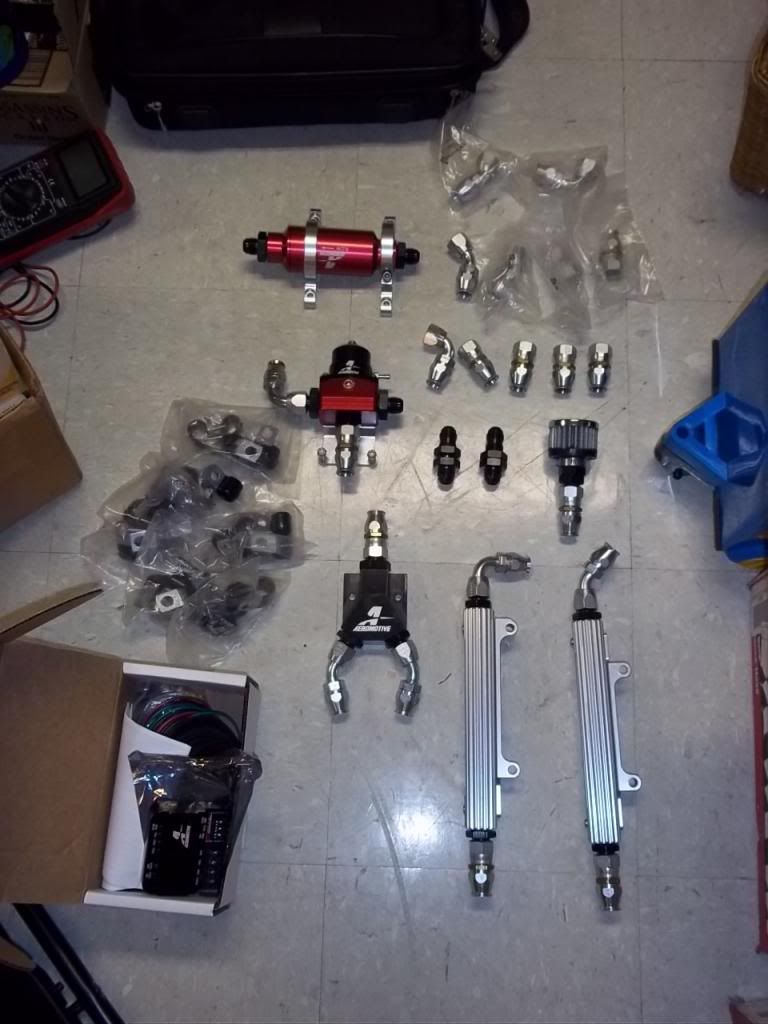 Last edited: